About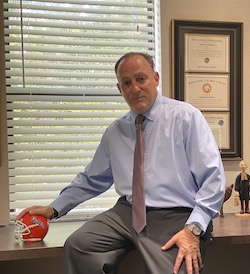 With over 30 years of experience as a personal injury attorney, David Wolf believes in the virtues of hard work, tradition, and honoring one's word. He brings a wealth of experience and a relentless work ethic to each case he handles and each client he serves. When David Wolf takes on a case, he is the primary attorney that the clients turns to days, nights, and weekends. When a client needs assistance, answers, and help, there is no substitute for experienced legal representation from an attorney who has dedicated his entire career to representing personal injury victims. Certainly, it is important to keep up with the changes and advances in technology, medicine, communication, and law when it comes to handling a personal injury case. It is also important to keep the concepts of personal service, individual attention, and person-to-person meetings and conferences. One such service that David Wolf prides himself in providing on a daily basis is the "house call". David Wolf has visited clients in just about every Florida county and certainly in all parts of North Florida. Read about the 7 Reasons Why David A. Wolf, Attorney Makes House Calls.
The initial meeting whether at the office, a client's home, or other location is just part of the typical work day for David Wolf. The practice of law presents many demands for an attorney. A successful and driven attorney does not limit his or her day to the 9 a.m. - 5 p.m. work schedule. Personal injury cases require that certain attention to detail and time to handle all of the demands of the job. When handling a personal injury case, a client should have an attorney with a strong work ethic. Get to know David Wolf's work style and philosophy. Read Work Ethic . . .Does It Really Matter? Absolutely.
With David Wolf, you get an attorney who is approachable, accessible, and ready to take on the challenges of a personal injury claim or case. From the first contact to the close of the case, David Wolf is with each client every step of the way. How accessible is David Wolf? Read Telephone, Skype and FaceTime Availability 24 / 7 and Grab A Cup of Coffee. Personal Injury - Personal Service - 24 / 7. With respect to personal injury accidents / incidents, the focus of legal representation is on the client. David Wolf understands and believes in the Power of Family, Faith & Freedom. Certainly, there is also certain empowerment to an injury victim in being represented by an experienced Personal Injury Attorney.
When hiring a personal injury attorney, it is important to know who you are hiring by way of education, experience, background, work ethic, work style, and reviews. David Wolf is prominently listed in the three major lawyer directories - Martindale Hubbell, AVVO, and Justia. He has earned the highest rating (AV Preeminent Rating) by the Martindale Hubbell , a 10.0 Superb Award - Top Personal Injury Attorney by Avvo, and Super Lawyer Designation from Thomson Reuters. Through Justia, David Wolf has published over 4000 articles focusing on personal injury and safety topics. He is also the author of 12 books that focus on personal injury and safety issues including the book titled Florida Automobile Accidents - Personal Injuries - Keys to Protecting and Enforcing Your Legal Rights. In his library, you will find the books he authored and other research related reference book. In addition, the library has two shelves dedicated to items as reminders and mementos of travel and personal history. See Bookshelf of David Wolf - Personal Items and Mementos.
Beyond his case work, professional accomplishments, and published articles and books, David Wolf is active in the community where he has put in countless hours for the Jacksonville Jewish Community Alliance in his service as a board member and volunteer. Read more about David Wolf's community service at Jewish Community and Activities. He has also helped mentored children in youth soccer in serving as a board member, coach, and volunteer with Creeks Athletic Association (St. Johns County), Soccer and as a special advisor to the Florida Elite Soccer Academy, one of the largest youth soccer organizations in the State of Florida. Raised by two public school teachers, David Wolf believes in giving back and make a difference in the community especially for children. Read about David Wolf's volunteer work with Big Brothers and Big Sisters. In 2013, David Wolf formed the Good Deed Brigade. The mission of the Good Deed Brigade is to promote the actions and kindness of people making a difference in the community. By completing this mission, the Good Deed Brigade hopes to encourage others to do their part to make the community a better place. David Wolf is on the Board of Directors for Pie in the Sky which is a non-profit organization providing fresh produce and hope to needy seniors in St. Johns County.
David Wolf is a life long Florida resident. He attended public school from kindergarten through law school where he graduated from the University of Florida. He is married to Robin Bloom Wolf. The Wolfs have two children (Megan and Matthew) and three rescue dogs (Hershey, Godiva, and Boss). David Wolf's work ethic stretches back to the age of 14 when he began working with his father on side landscaping jobs. David eventually purchased a Ford pick up truck which allowed him to do more work on the weekends and after school. This truck was the very same truck in which David took Robin Bloom to lunch during lunch breaks from Miami Palmetto High School. During his senior year of high school, David worked at McDonald's as a cook and cashier. Read about his Life Lessons Learned at the Golden Arches (McDonald's).
Outside of time spent devoted to family, work, and community service, David Wolf enjoys gardening, cycling, and, yes, listening to the music of Elvis Presley. See Interesting Elvis Tidbits and David Wolf.
While the little red truck has long since been sold, David Wolf's work ethic and desire to serve his clients remain strong. Get D Wolf On Your Side - At Your Side.
Read About David Wolf's Work Ethic, Dedication to His Clients, and Availability Read About David Wolf's Listing and Rating in Legal Directories