Work Ethic... Does It Really Matter? Absolutely!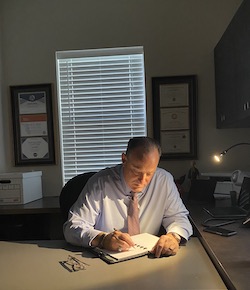 In life, many challenges are overcome with a dedicated work ethic. This is especially true as it pertains to the practice of law. As noted by American author Napolean Hill, "Patience, persistence, and perspiration make an unbeatable combination for success." Most legal cases and claims involving a personal injury are not resolved by a simple telephone, stroke of the pen, or click of the keyboard. It takes concentrated effort, time, resources, and, yes, a dedicated work ethic to get the job done. While David Wolf will and does spend his days and nights dedicated to his profession, practices, and clients, he certainly cannot get the job done without the effort, cooperation, and sacrifices of his clients. After all, the clients are the victims in need of a guiding hand and open heart. Certainly, there is the responsibility of the client and his or her family to communicate with the attorney, attend doctor's appointments, and otherwise follow the lead and instructions of the attorney.
Where does a work ethic come from? Well, the answer to this question depends on the person. One could argue that a dedicated work ethic comes from within and often from the life experiences we are dealt and the life experiences that we create. As a personal injury attorney, David Wolf has the sincere desire to help people. Raised by parents, who were first school teachers and then small business owners, David Wolf knows the importance and virtues of education, entrepreneurship, and community. On most days currently you will find David Wolf behind his desk, in court, or out and about in the community with his legal notebook, iPad, iPhone, a pen, and a few business cards. Growing up, David's trade and tools were quite different. From middle school through law school, David worked through the heat and weather of South Florida at his parents' nursery and landscaping business. He had a red pick up truck without any air conditioning or power steering but the red pick up truck got him through high school and part of college. He would complete small landscape and clean up jobs on the weekends and during his winter and spring breaks. His tools of the trade during this time of this life included a shovel, a pick, a rake, and, yes, the trusty little red pick up truck. Over time, the books, pens, and computers became his tools of the trade; however, he never forgot the days working through coral rock and through many yards to get the job done.
David A. Wolf has successfully handled a wide array of personal injury cases throughout the State of Florida including automobile accidents, trucking accidents, bicycle accidents, pedestrian accident, slip and fall incidents, day care center injuries, school injuries, sports related injuries, theme park and amusement park injuries, and other types of cases. As a Florida Personal Injury Attorney, David understands the stresses that an injury can put on a person and the immediate family. David strongly believes in Giving a Voice to Injury Victims and Their Families. Because of this, he is available at most times to his clients from the beginning of the case to its rightful conclusion. Certainly, injury victims deserve to be treated with dignity and respect especially in the aftermath of the crash, accident, or incident that results in life changing personal injuries. Unlike many firms out there, David does not limit his practice to only catastrophic injuries. From minor injuries to significant injuries to wrongful death, David commits his time and resources to all kinds of cases for people of all ages from all walks of life.
For over 30 years, David A. Wolf has dedicated himself to the representation of individuals who have been injured due to the fault or negligence of others. While he no longer has that little red pick up truck, he still has that work ethic to get the job done. You can reach David A. Wolf on days, nights, weekends, and holidays. He will use his tools of the trade, work ethic, and skill set to get the job done.