Martindale Hubbell Legal Directory - AV Preeminent Rating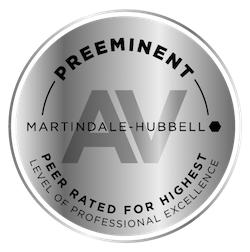 The Martindale Hubbell Legal Directory has deep historical roots in the United States. Back in 1868, just 3 years after the Civil War, an attorney and businessman - James B. Martindale, started the Martindale Directory. The purpose of the directory was to provide other professions with the contact information for one reliable law firm, one reliable real estate office, and one reliable bank in every city in the United States. Over the years, the Martindale Directory eventually became the Martindale Hubbell Legal Directory which focused its content on attorneys, law firms, and some of the laws separated by jurisdiction.
The Martindale Hubbell Legal Directory was and is a multi-volume book series that is generally organized by State and then by city within the State. Prior to the emergence of the internet and search engine optimization online, the print edition of the Martindale Hubbell Legal Directory was the "go to" search for attorney information, biographies, and ratings. There was and is a bit of tradition and prestige in being listed in the Martindale Hubbell Legal Directory. Certainly, this is the case when an attorney has an AV Rating from the Martindale Hubbell which is the highest rating possible.
These days, there are now a number of legal directories both on and offline. When a person is searching for information or a law firm to handle a matter, there are a number of methods available including the recommendation of a friend, word of mouth, print directories, and online searches. The Martindale Hubbell Legal Directory has both grown and adapted with the age of technology. The Martindale Hubbell Legal Directory is now online through the following websites: www.Lawyers.com and www.Martindale.com
David Wolf has been serving his clients and the community for over 30 years. He is AV Rated by the Martindale Hubbell Legal Directory. In particular, the rating designation for David Wolf is AV Preeminent which is defined as "a significant rating accomplishment a testament to the fact that a lawyer's peers rank him or her at the highest level of professional excellence."
The AV Rating is based on the following:
Legal Knowledge;
Analytical Capabilities;
Judgment;
Communication Ability; and
Legal Experience
As noted by David Wolf, "It is an honor to be rated and review at highest level (AV Rating) by my peers and clients. However, it is not a static or historical honor. It is one that a strive to deserve, maintain, and achieve on a daily basis and well into the future."
The Martindale Hubbell Legal Directory has a long history and tradition. Another item that has a long history is the business card. That's right, a standard business card has a long history in the United States as well. Business cards reportedly began in Europe in the 17th century. The early business cards were used to announce the arrival of wealthy or aristocratic people to a local town or even upon their return home. Over time, business cards expended to trades and people of all walks of life. David Wolf has made literally thousands of connections over the years - business, community, and personal - by a simple handout or exchange of a business card. David Wolf does not have television ads, yellow page ads, or billboards in place. He relies upon his extensive contact base, colleagues, friends, word of mouth, online reviews, and, yes, the business card to get to word out.
David Wolf focuses his practice in the field of Personal Injury. A FREE CONSULTATION is provided on all personal injury cases.
Get D Wolf On Your Side - At Your Side.