Refreshing and Experienced Legal Advice - Free Consultation - All Personal Injury Matters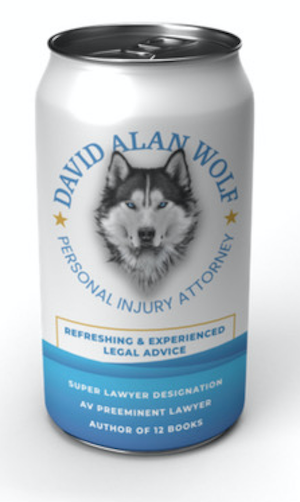 In the aftermath of a car accident or other traumatic event, it is important for injury victims and their families to get solid, realistic, and experienced legal advice. When contacting a law firm, there are several options that are provided including but not limited to the following: a voice mail message, receptionist, big call center, case manager, legal assistant, paralegal, and inexperienced attorney. While these are all options, they are not particularly good or effective options for the injury victim or family member of the injury victim needing straight forward and experienced legal advice. When you contact David Alan Wolf - Personal Injury Attorney, you will get a same day and often an immediate free consultation with an attorney with over 30 years of experience. In addition, if the case is accepted for representation, you will get David Wolf as the lead attorney on the case.
During the consultation with David Wolf, the strengths and challenges of the case will be discussed, reviewed and analyzed. There is not much value to a consultation that only covers the strengths of the case. A consultation that only raves about the case and only raves about the spectacular results to be obtained in the future is not really a comprehensive consultation. It is important to discuss the challenges as well. It is also important to discuss the recommended courses of action including but not limited to medical care, work accommodations and efforts, insurance coverages, reimbursements, property damage repairs, and other matters.
The can that is shown as a promotional graphic to this page is not real. It is just a fun graphic that showcases some of the awards / attributes of David Wolf; however, the advice provided by David Wolf is quite real. The advice is built upon over 30 years of experience in handling personal injury cases of all types from the Florida Keys to the Florida Panhandle and most parts in between. Based in Jacksonville and Flagler Beach, David Wolf believes and executes a dedicated and strong work ethic that start before the crack of dawn and carries on into most evenings and weekends. David Wolf firmly believes in Giving a Voice to Injury Victims and Their Families. Because accidents and the need for legal advice does not occur on a schedule, David Alan Wolf makes himself available during the regular work day as well as early mornings, evenings, weekends, and even holidays.
David Wolf is the author of 12 books including the book titled - Florida Automobile Accidents - Personal Injuries - Keys to Protecting and Enforcing Your Legal Rights. The book provides some excellent information for injury victims and their families in the aftermath of an automobile accident. You can get a free copy of the book by visiting the library / book section of this website here. David Wolf is also the author of over 4,000 articles that focus on personal injury and child injury matters. As a Double Gator (Finance Degree and Law Degree) University of Florida graduate, David Wolf is a lifelong Floridian who has dedicated his entire career to representing residents and visitors to the State of Florida.
To obtain a free consultation, you can contact David Alan Wolf by visiting the Contact Us Page for the website. You can also click on the "How Can I Help You?" section at the bottom right part of this website to answer some basic questions about you and your case. You will get an immediate or same day consultation from David Alan Wolf personally. You can avoid the bureaucracy of a call center and large firm where you may ultimately feel like a number or just part of a factory process of case handling.
Contact David Alan Wolf about your personal injury case today and get the advice, guidance, and legal representation you deserve.