Truck Accident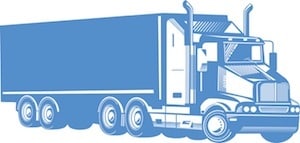 Florida is a hub for intrastate and interstate commerce. Commercial trucks of all sizes travel in and through Florida on a daily basis. Day and night, you will see commercial trucks and semi-tractor trailers go through every one of Florida's 67 counties. From Interstate 95 to Interstate 4 to Interstate 75 to the Florida Turnpike and all parts in between and beyond, commercial trucks and semi-tractor trailers are common sites on Florida roadways.
Because of the sheer size and weight of commercial vehicles and commercial trucks, it is important the driver of these large vehicles are well-trained, alert, and free of distraction. The fact that most of these drivers have a commercial driver's license and some training does not by any means guarantee the safety of individuals and families on our Florida highways, roads, and streets.
When is person is injured due to the negligence of a commercial driver / truck driver, the personal injuries can range from minor to significant to catastrophic. Many drivers and passenger tragically die every year due to the unsafe driving of a Florida commercial truck driver. The aftermath of a trucking crash into a private vehicle whether a compact car or SUV can be most devastating. An otherwise bright and beautiful day can turn into a nightmare and a life changing event in the matter of seconds.
There can be many causes for a Florida Trucking Accident including excessive speed, driver distraction, following too closely, improper maintenance, and other causes. Businesses and government entities have a duty to properly train its drivers and maintain its vehicles. Driving in the State of Florida is not a right per se. It is a privilege that should be taken seriously every time that a commercial truck driver gets behind the wheel.
It is important to truck drivers to obey speed limits, obey road signs and traffic signals, pay attention to traffic, and otherwise drive in a safe manner according to the road conditions and elements. If it is raining and the roads are slick, a commercial truck driver should slow down and make sure that there is sufficient distance to control the truck in case the traffic in front of the truck slows down or stops. Driving on any of Florida's major roads and Interstate highways - you will see truck after truck. You will also frequently see trucking accidents caused by unsafe driving. Some the trucking accidents are quite intense and leave a path of destruction in the wake of the crash.
The Florida Highway Safety and Motor Vehicles Department reported that there were over 37,000 commercial vehicle crashes in 2014 over 38,000 commercial vehicle crashes in 2015. In 2014 and 2015, over 40 % of the crashes involving vehicles including all types of vehicles resulted in personal injuries to one or more drivers and / or passengers.
Like other personal injury cases, there are four elements to prove to establish a claim or case to recovery compensation for personal injuries. The four elements are as follows: Duty, Breach of Duty, Causation, and Damages. As soon as the crash is reported to to the business and / or insurance companies, an investigation is immediately commenced; however, the investigation is on behalf of the truck driver, trucking company, and the insurance company for the commercial truck. The personal injury victim should likewise avail himself or herself of the services of a Florida Personal Injury Attorney for advice, guidance, and legal representation in the aftermath of a Florida Trucking Accident.
David Wolf is a Florida Personal Injury and Trucking Injury Attorney with over 30 years of experience. He has represented clients of all ages throughout the State of Florida. Call for a FREE CONSULTATION or a FREE CASE EVALUATION now. Get D Wolf On Your Side - At Your Side.