Motorcycle Accidents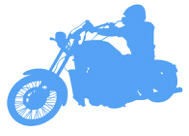 In the State of Florida, the freedom and spirit of bikers / riders on motorcycles are seen in each of Florida's 67 counties on a daily basis. Florida has weather that permits the use, operation, and enjoyment of motorcycle ownership year round. Certainly, Florida is a wonderful geographic region to ride the highways, roads, and streets. Unfortunately, many drivers of motor vehicles and trucks do not pay close attention to traffic including traffic involving bikers / motorcycles. Let's face it - a motorcycle is no match for a motor vehicle even a compact motor vehicle. If there is a crash involving a motorcycle, there is a high probability that the biker will sustain personal injuries and, in many instances, serious personal injuries that are permanent in nature.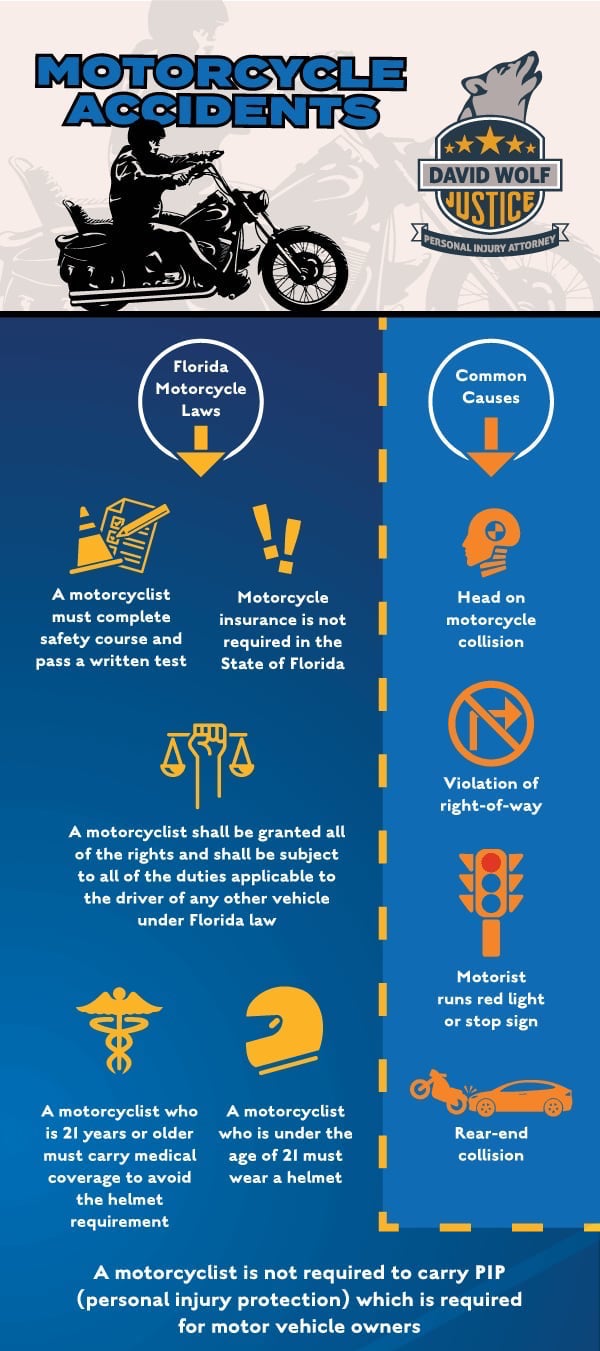 There are many challenges faced by the injured biker / rider in the aftermath of a Florida Motorcycle Accident. In most every case, there is damage to the motorcycle. Unlike Florida Automobile Accidents, there are very few fender benders or minor impact crashes when there is a motorcycle crash. Certainly, the owner of the motorcycle is entitled to have the motorcycle repaired if the crash resulted as a result of the fault of another driver. As for medical expenses and treatment, motorcycle accidents are handled slightly different that automobile accidents in the State of Florida. Insurance requirements are different and medical coverage (when applicable) can be different under a motorcycle insurance policy as opposed to an automobile insurance company.
The truth is that bikers / riders injured as a result of the negligence of another driver have rights in the State of Florida that can be and should be enforced and protected. Over the past 30 years, David A. Wolf has worked on behalf of injury victims including those injured as a result of a Florida Motorcycle Accident. It has been the experience of David A. Wolf that motorcycle owners and bikers / riders have that certain sense of community and further appreciate and understand the concepts of freedom, patriotism, and family. Certainly, the world of the motorcycle owner, biker, and / or rider can be forever affected in the aftermath of a serious crash. A personal injury victim may be entitled to compensation for medical bills - past and future, wage loss - past and future, mental pain, suffering, and the loss of enjoyment of life. For some injured motorcyclists, bikers, and riders, the motorcycle crash represents the last time that he or she will spend on a motorcycle due to the severity of the crash and injuries. Tragically, some motorcyclists, bikers, and riders die as a result of a motorcycle accident or crash.
It should be kept in mind that motorcyclists have a right to be on the roadway. The truth is that drivers of motor vehicles whether the motor vehicle is a compact truck or a semi-tractor trailer should be on the look out for motorcycles. That's right, look out or watch out for motorcycles. Operating or riding a motorcycle can be a safe mode of transportation assuming that the biker is obeying the rules of the road AND other drivers are obeying the rules of the road. Distracted driving is a big problem these days. You will not see a responsible motorcycle owner text or otherwise use his or her mobile phone while operating the motorcycle. However, it is quite common to see drivers of motor vehicles out on the roadways and highways tooling around on their phones in the midst of a driver, traffic, and, yes, the presence of motorcycles.
If a motorcyclist, biker, or rider is injured as a result of the negligence or fault of another driver, contact David A. Wolf today for a FREE CONSULTATION . David A. Wolf believes in and protects the rights of injured bikers, motorcyclists, and riders. It certainly important to Give a Voice to Injured Bikers and Their Families. Get D Wolf - On Your Side - At Your Side.