Pie in the Sky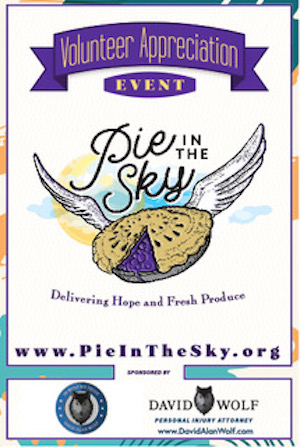 Pie in the Sky is a non-profit organization based St. Augustine / St. Johns County, Florida. The mission of Pie in the Sky is to provide hope and fresh produce to low income seniors in St. Johns County. Pie in the Sky is volunteer based. Volunteers are essential to the operation and success of Pie in the Sky. From gathering together the produce and food products to packaging up the bags / baskets to delivery to the seniors, volunteers make it happen under the guidance and direction of two full time employees. It is amazing to see what is done on a weekly basis by Pie in the Sky. The donated funds are certainly put to good use and directed to where it is most needed . . . to the seniors served by Pie in the Sky.
David Wolf has been friends with the executive director (Malea Guiriba) for over 20 years. He has personally seen Pie in the Sky grow from an idea to a substantial force for good in the St. Johns County community. In 2022, David Wolf joined the Board and has attended a number of special events. The board members (also volunteers) all are committed to the common mission. It is amazing to see so many good people doing good things in the community.
David Alan Wolf - Personal Injury Attorney - sponsored the Pie in the Sky Volunteer Appreciation Event in which volunteers and board members gathered together for a night of celebration. It was not an extravagant event but it did not need to be. Just some trays of excellent Mexican food, a few coolers of cold drinks, and some cookies and cake. There was also a small celebration of the birthday of Roosevelt McCray who is the longest serving volunteer of the organization.
You can read more about Pie in the Sky at the Official Website for Pie in the Sky.