In the Community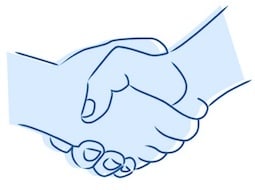 David Wolf has been a dedicated volunteer involved in a variety of organizations, causes, and events for over 30 years and his volunteerism continues forward to this day as strong as ever. From a young age, David Wolf knew the importance of giving back and dedicating one's time and skills to causes the make the community that much brighter for children, teens, adults, and seniors.
In college, David Wolf joined a service organization - Alpha Phi Omega - which is the largest collegiate fraternity in the United States. The fraternity is a co-ed fraternity organized to provide community service, leadership development, and social opportunities for college students. During his first two years at the University of Florida, David Wolf participated in a number of community service projects with Alpha Phi Omega which helped support and beautify Gainesville and the surrounding areas. David Wolf later joined Lambda Chi Alpha where he served in the position of High Sigma (Scholastic Chairman), High Alpha (President, and finally as a Graduate Advisor. In these positions, David was called upon to lead, volunteer, and mentor the members of the fraternity. See David Wolf - Fraternal Programs.
During his college years and the year between college and law school, David worked as a camp counselor at a Miami-Dade County Public Park at the very same County Park where David spent his summers growing up playing a variety of outdoor games including kickball, capture the flag, flag football, archery, and jump the creek (i.e. long jump). It was only natural for David Wolf to return to his roots and mentor children.
Following college, one major commitment undertaken by David Wolf was his work with Big Brothers and Big Sisters which is a non-profit organization with the goal to help children read their potential through professionally supported one-to-one relationships with volunteer mentors. David Wolf was matched with a 9 year old child. Over the years, David served as a consistent mentor and friend for his "Little Brother" as David saw his "Little Brother" through elementary school, middle school, high school, and college. The friendship has spanned 20 years and continues to go strong to this very day. See David Wolf - Volunteer - Big Brothers and Big Sisters.
Since 1998, David Wolf has been a member and volunteer with the Jacksonville Jewish Community Alliance. Soon after joining as members, David and Robin Wolf enrolled their daughter in the Michele Block Gan Yeladim Preschool program. The Wolfs saw first hand the benefits and educational resources provided to children at this wonderful school which has earned the highest of ratings and accreditations for preschools in Florida and the United States. Robin Wolf served as the Co-Chair of the Early Education Committee. In 2009, David Wolf was appointed to serve on the Board of Directors for the Jacksonville Jewish Community Alliance and he was later appointed into the positions of Treasurer and then Secretary. He currently serves a Vice President on the Board of Directors. You can read more at David Wolf and the Jacksonville Jewish Community Alliance (JCA).
Since 2007, David Wolf has been active in local youth soccer with the following Clubs: CAA Creeks Soccer, CAA Creeks Kraze Soccer, and Florida Elite Soccer Academy. He has served as a coach, parent communicator, team manager, and the Secretary on the Board of Directors. The Florida Elite Soccer Academy is one of the largest youth soccer organizations in the State of Florida. Currently, David Wolf serves as a Special Advisor to the Club and the Board of Directors. In addition to his work with these soccer organizations, David Wolf also has served as Special Advisor for a local swim team in reviewing releases, leases, and contracts.
As the founder of the Good Deed Brigade and a steadfast community volunteer for over 30 days, David Wolf sees the true value and importance of community service. Whether the service of a volunteer involves a major commitment or just a random act of kindness, these acts combine together to make the community a better place for all. David Wolf strives to make a difference every chance he gets for his clients and the community as a whole.