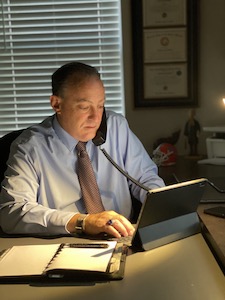 David Alan Wolf
Partner
Download VCard
Jacksonville: (904) 500-9653
Flagler Beach: (386) 348-4695
Mount Dora: (352) 887-4695

1702 Emerson St #2A
Jacksonville, Florida 32207
2561 Moody Blvd #210
Flagler Beach, Florida 32136
440 Royellou #204
Mt Dora, Florida 32757
David Alan Wolf (Attorney - Author - Advocate)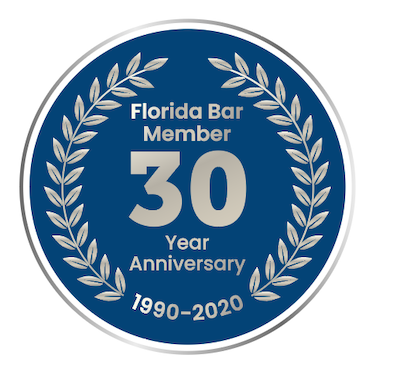 David Wolf is an "A.V.-Preeminent" rated attorney with over 30 years of experience who handles cases involving personal injury, child injury, automobile accidents, trucking accidents, bicycle accidents, pedestrian accidents, wrongful death, slip and fall injuries, medical malpractice, nursing home neglect, and other personal injury related matters. David Wolf is a member of the Florida Bar, Florida Justice Association, and the Federal Bar - Middle District of Florida.
David Wolf has been awarded / recognized for his work and dedication to excellence:
Martindale Hubbell Lawyer Directory - AV Preemient Attorney and a Platinum Client Champion
AVVO Lawyer Director - 10.0 Superb Rating and Client's Choice Award
Thomson Reuters Lawyer Diretory - Super Lawyer
Justia Lawyer Directory - 10.0 Rating and Platinum Attorney
David Wolf takes pride in his work as an attorney, author, and advocate. As an attorney, he represents individuals throughout the State of Florida. He limits his practice to a small caseload (as compared to some other firms) so he can provide that one-to-one relationship and representation to each client who retains him. His clients come from all walks of life and from all age groups and stages in life. From infants to students to corporate executives to retirees and everyone in between, David Wolf understands the needs of his clients and importance of enforcing one's legal rights and the importance of being respected and valued as a person. This is especially true for injury victims whose lives have been changed through no fault of their own.
David Wolf is the author of twelve books that have been published and are available for free on this website. The books are titled as follows:
Florida Automobile Accidents - Personal Injuries - Keys to Protecting and Enforcing Your Legal Rights;
Big Trucks - Big Problems - When a Truck Driver Wrecks Your Day and Life - Legal Rights of Injury Victim and Family;
Watching Out for Florida Motorcyclists - Freedom - Liberty - Justice - Legal Rights of Injured Bikers
Florida Motor Scooters - Fun to Ride Until You Are Hit on One - Legal Rights of the Injury Victim
Bikes, Trikes and Automobiles - Legal Rights of The Injured Cyclist.
When A Dog Is Not Man's Best Friend - Legal Rights of the Dog Bite Victim;
Cruise Ship & Boating Injuries - Remedies and Compensation - Don't Let Your Legal Rights Get Pirated Away;
Broken Trust - Abuse, Neglect, and Molestation - Legal Rights of the Injured Child;
The ABCs of Child Injury - Legal Rights of the Injured Child - What Every Parent Should Know;
Florida Day Care Center Injuries - Legal Rights of the Injured Child - Building Blocks of Knowledge for Parents;
When a Parent's World Goes From Full to Empty - The Wrongful Death of a Child - What You Need to Know About The Florida Wrongful Death Act; and
When The Wheels Stop Spinning - Legal Rights of The Injured Child - What Parents Need to Know After The Accident.
In addition, Mr. Wolf serves as the editor of the Florida Child Injury Lawyer Blog and the editor of the Child Injury Lawyer Blog .
As an advocate, David Wolf strives to protect and enforce the rights of his clients. He also advocates for the safety of children and adults so that injuries / incidents are prevented when possible. Finally, David Wolf advocates for the community through his acts of service and volunteerism with a variety of organizations aimed to make the community a better place for all.
Education and Background Information
University of Florida - Double Gator - Go Gators!
David Wolf is a proud graduate of the University of Florida. He was born and raised in the State of Florida and is the product of a public school education from Kindergarten through 12th Grade. It was only natural for David to attend the University of Florida which is a flagship school in the State of Florida college / university system.
University of Florida - College of Business Administration (Finance) (1983 - 1987)
In 1983, David packed up his red Ford pick up truck and headed North from Miami up the Florida Turnpike and then onto Interstate 75 on his first of many journeys to and from Gainesville, Florida. His first residence on campus was located in the Tolbert Housing Area in South Hall. He was matched with his best friend from high school and another student from the Sarasota area. Soon after arriving, David explored campus and the surrounding area to ready himself for his first year of college.
Immersed in math, science, and other basic first year studies, David hit the books hard and succeeded with excellent grades in his first semester. He earned Dean's List Honors is first semester and every semester thereafter. Having become acclimated to the rigors of college studies and the related coursework, David ventured out his second semester in 1984 to join an on-campus service organization - Alpha Phi Omega. He met the member of the organization and knew that it was the right organization at the right time for David. Alpha Phi Omega is a national co-educational service organized centered on the foundations of Leadership, Friendship, and Service. It provides its members the opportunity to develop leadership skills as they volunteer on their campus, in their community, to the nation, and to the organization. David participated in community service events throughout campus and the surrounding Gainesville / Alachua County community.
As a sophomore, David returned to the University of Florida after a summer working with children at Continental Park - which is part of the Miami-Dade County Parks and Recreation System. He returned with a penchant to move forward with his studies and to earn the requisite credits to apply to his college and major of choice - the University of Florida Business Administration School. He then made a decision to broaden his horizons by joining the national fraternity - Lambda Chi Alpha Fraternity . Founded in 1909, Lambda Chi Alpha has a mission to inspire the highest level of character, values, scholarship, and service to each of its members.
Moving on to his Junior and Senior years, David excelled in his studies as a Finance major. He moved into the Lambda Chi Alpha Fraternity House located on "Fraternity Row" in Gainesville, Florida. He was elected to the leadership position of High Sigma which is designed as the Scholastic Chairman. In this position, he led study and tutor sessions in order to encourage other brothers to concentrate and excel in their respective studies and majors. David earned the award of Most Scholastic Brother. He continued to earn Dean's List Honors as well. During these years, he also interned at the Gainesville Fire Department and served as a Teacher's Assistant for a general studies course. Based on his scholastic achievements, David was awarded two scholarships to offset the costs of tuition in his Junior and Senior year.
In 1987, David A. Wolf graduated from the University of Florida School of Business with High Honors with his Bachelor of Science (B.S.) degree in Finance. He earned President's List Honors (4.0) in all but two semesters.
In the Summer of 1987, David A. Wolf returned to his work with children as a camp counselor at Camp Blue Star located in Hendersonville, North Carolina. He enjoyed the summer in the Blue Ridge Mountains as he prepared himself for entry into law school at the University of Florida.
University of Florida - College of Law (1987 - 1990)
In his first year of law school, David again dedicated himself to his studies and the challenges of the initial coursework. He did well his first year as he transitioned from his business studies in undergraduate into his law studies. The summer after his first year, David remained in Gainesville for some additional coursework.
Heading into his second year of law school, David completed the basic studies and then engaged in additional elective coursework including a number of complex coursework in tax, banking, and probate matters. He greatly enjoyed his broad based coursework as he prepared himself for his final year of law school. He earned Dean's List Honors in his second and later his third year of law school. During this second year of law school, David returned to his fraternity house - Lambda Chi Alpha Fraternity - where he served as President of the fraternity and later as Graduate Advisor for the fraternity. In these positions, David was provided housing allowances which, in turn, helped offset the expense of law school. David paid for part of his law school education with summer jobs and this housing allowance.
During the summer between his second and third year, David Wolf became a law clerk with the United States Attorneys Office - Southern District of Florida located in Miami, Florida. He worked in the Appellate Department and was assigned research and writing skills on a number of complex litigation matters.
On to the third year of law school, David continued his academic endeavors with that certain dedication and work ethic that he learned growing up. Having worked in various jobs since the age of 14, David was became acclimated to multi-tasking and performing these jobs while dedicating himself to his studies. In his third year of law school, David clerked for a law firm located in Lake City where he worked on a number of civil, criminal, personal injury, and family law matters. It was in this job that David was first introduced to personal injury cases and clients and where the spark was initially ignited to do this kind of work.
In 1990, David marched proudly with his classmates where he earned his second degree from the University of Florida. He proudly accepted his J.D. (Juris Doctorate) degree. He spent the summer following graduation immersed in preparation for the bar exam which was held in Tampa. He passed the bar exam and scored a high enough score to waive into the bar for other States if he had elected to do so. In September 1990, David Wolf - a proud Double Gator graduate of the University of Florida - became a member of the Florida Bar.
Over 30 Years of Experience as a Personal Injury Attorney
For over 30 years, David has focused his practice and work representing individuals in the aftermath of an accident or incident caused by the negligence of a person, business, or government entity. From the Florida Keys to the Florida Panhandle, David has handled a wide variety of personal injury cases including those related to automobile, trucking, motorcycle, motor scooter, bicycle and pedestrian accidents. He also has effectively representing injury victims injured as a result of slip and fall incidents, medical malpractice, and nursing home neglect. David has a special interest in protecting children. He has authored 12 books that cover personal injury topics including specific books on child injury and child safety matters. His first book which was published over 10 years ago is titled The ABCs of Child Injury - Legal Rights of the Injured Child - What Every Parent Should Know. With respect to the child injury cases, David has represented children injured as a result of an automobile accident, day care center incident, dog bite incident, summer camp incident, swimming pool / aquatic incident, and other matters. As an experienced attorney, David is often contacted by other attorneys for guidance on personal injury matters. He has been appointed by various courts to serve as a Guardian Ad Litem to review and report on settlements on bhealf of children to insure that the settlements are in the best interest of the children.
Based in Jacksonville, Florida, attorney David Wolf handles personal injury cases throughout the State of Florida. He has handled cases in most of Florida's 67 counties.
Family - Faith - Community Service
While early mornings, late nights, and weekends are common work times for David Wolf, he is also committed to family, faith, and community. David Wolf and his wife (Robin) have resided in North Florida for over 25 years.
Both children (Megan and Matthew) attended the University of Florida. Go Gators! The rest of the Wolf family - the dogs (Hershey, Godiva, and Boss) - remained in North Florida while the children carry on the great Gator tradition. David's community service includes work with the Jacksonville Jewish Community Center, Creeks Soccer / Florida Elite Soccer Academy, Big Brothers / Big Sisters, Pie in the Sky (Fresh Produce for Seniors), and local public schools. Robin's community service includes work with the Jacksonville Jewish Community Center, the American Red Cross, the St. Augustine Humane Society, and the Jacksonville Jewish Federation - Women's Division.
Ongoing Mission of Attorney David Wolf
David Wolf, through his work as an attorney, advocate, and author, is dedicated to his ongoing mission of . . .
Giving a Voice to Injury Victims and Their Families
Contact David Wolf today for a Free Consultation to get advice, counsel, and representation as to the recommended course of action to protect and enforce your legal rights.