Telephone, Skype, and FaceTime Availability - 24 / 7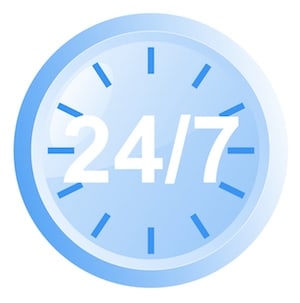 Unlike other legal practice areas, personal injury cases are not planned for or expected by the victims in need of legal advice and representation. As such, a personal injury involving an accident or incident can literally happen at any time - days, nights, weekends, and holidays. It is important to get access to a Personal Injury Attorney soon after the accident, crash, or incident and thereafter when you need help. As such, David Wolf is available at virtually all times to his clients, prospective clients, and, yes, even his former clients who he makes a point of keeping in touch with even a decade or more following the resolution of the case or the claim.
In today's world, there are affordable and available means to communicate day and night through mobile phones, smart phones, tablets, and the computer. Of course, the traditional telephone call from a landline and the traditional in-person meeting are great ways in which to communicate with a Personal Injury Attorney. It all has to deal with availability and access. If a client has accessible and available legal representation, many issues and complications are avoided. Furthermore, the full accessibility and availability of a Personal Injury Attorney can go a long way to reduce some of the stressors to the injury victim following the accident or incident.
Consultations can be completed by telephone, in-person office consultation, in-person consultation at a convenient location including your home, and video chat through services like Skype. David Wolf follows a general work schedule in the office between 6:00 a.m. - 5:00 p.m. He is available for after hour appointments as well at the office or at a location convenient for the client.
Following an accident or incident causing a personal injury, there are a myriad of issues and questions to deal with including the following:
Do I have a legal case or claim to pursue?
Who is going to pay for my medical bills?
Where should I go for medical treatment?
What insurance is available for my medical bills, pain, suffering, and loss of enjoyment of life?
Should I give a statement to my insurance company?
Should I give a statement to the other person's insurance company?
How am I going to get my vehicle repaired?
Should I report an accident or incident to the police?
How do I get the police report, fire rescue report, and other documents / records?
Is there a case or claim that is worth pursuing?
How much is my personal injury claim or case worth?
Looking for help or advice right now? You got it. Contact David Wolf at (904) 500-9653. You can also text David Wolf at (904) 500-9653 OR e-mail David Wolf at dwolf@davidalanwolf.com to request a telephone call, responsive text or e-mail, or a Skype video chat. Getting the answers you need in a timely fashion can set you on the path to protect and enforce your legal rights following an accident or incident. David Wolf provides a FREE CONSULTATION for all personal injury cases. If the case is accepted for legal representation, the case will be handled on a contingency basis - NO RECOVERY - NO ATTORNEY FEES OR COSTS.
Skype is a interesting and wonderful way to schedule a consultation at any time of day. FaceTime is also great way to have an immediate video chat with an experienced Personal Injury Attorney. David Wolf provides FREE CONSULTATIONS on personal injury cases. With a click of a few keys, you can Skype with David Wolf, a Personal Injury Attorney with over 30 years of experience. Get real answers and practice advice from an experienced Personal Injury Attorney right now. David Wolf is dedicated to Giving a Voice to Injury Victims and Their Families.