Get a Real Opinion from a Real Attorney Right Now - My Two Cents - David Wolf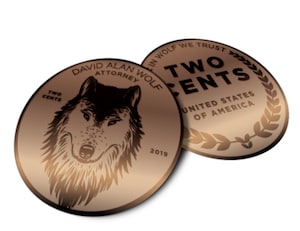 Over the course of my almost 30 years of practice, David Wolf have made a concerted effort to be available to my current clients and prospective clients for real advice. What is real legal advice? It depends on who you ask. Certainly, real legal advice should come from an attorney not a call center representative, receptionist, legal assistant, or paralegal. While support staff members are quite knowledgable and friendly, they are no substitute for a trained attorney with decades of experience. Just because an attorney has a law license does not mean that the legal advice is solid, accurate, or wise. Far too many times, I have potential clients contact me who have either been given no legal advice to speak of OR the wrong legal advice. In some instances, the potential client had been promised the earth, moon, and the stars by an eager attorney only interested in closing the sign up deal and then moving on to the next sign up. Certainly, the attorney client relationship should start with honesty. It really does not help the potential client out much to make promises that cannot be kept or give the potential client mere guesses as to the potential outcome of the case. A person deserves to get legal advice that is real, honest, and valuable. Certainly, telling a person only the things that he or she wants to hear is dangerous and quite careless in my opinion. When a person has a legal matter or case to pursue, it is important to tell the person about the strengths and weaknesses in the case. Keep in mind that there are no laws in place that guarantee a recovery, result, or certain amount of compensation. When a case is pursued, it can be and will be defended by an insurance company. Even when the insurance company is faced with a difficult case to defend, the insurance company tends to search for and find some aspect of the case to argue or defend. Some defenses have merit. Some do not. Either way, it is important for a potential client to know what arguments he or she may face on the case so that the potential client can be prepared for what is to come.
As noted about, there is no substitute for the advice of an attorney. There also is no substitute for experience. David Wolf has handled cases throughout the State of Florida and has co-counseled on a number of out-of-state cases. As a lifelong Florida resident and a Double Gator, David Wolf has spent his entire life in the State of Florida where he has handled cases from Key West to Pensacola and most parts in between. He has travelled to all of the 67 counties and has a tremendous network of contacts including attorneys and medical providers throughout the State of Florida. As the author of 12 books that focus on personal injury matters, Attorney David Wolf gladly shares his wealth of knowledge with clients, potential clients, colleagues, and anybody else interested in learning more about the pursuit of personal injury cases including automobile accidents, trucking accidents, bicycle accidents, pedestrian accidents, cruise ship injuries, dog bite injuries, child injuries, day care center injuries, playground injuries, swimming and aquatic related incidents, wrongful death cases, and other matters. David Wolf firmly believes in Giving a Voice to Injury Victims and Their Families.
Get Real Legal Advice Right Now from Attorney David Wolf. He is available days, nights, weekends, and holidays. Call David Wolf at (904) 500 - WOLF or (904) 500-9653. You can also e-mail David Wolf at dwolf@davidalanwolf.com
For all injury cases, David Wolf provides a Free Consultation. Get D Wolf On Your Side - At Your Side.