Rear End Shunt Motorcycle Accidents Cause Injuries to Motorcyclists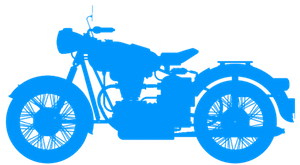 A motorcyclist can be seriously injured in a particular type of crash designated as a rear end shunt motorcycle accident. The term "shunt" refers to the force of being pushed forward into another vehicle. There is a chain reaction in rear end shunt accidents that may involve a number of vehicles including a motorcycle. The injuries or effects can be quite devastating to the biker caught into between two vehicles as a result of these rear end motorcycle accidents. For example, let's say that a motorcyclist is properly stopped at a red light behind a motor vehicle which is also properly stopped. Another driver behind the motorcyclist, who was speeding and otherwise distracted by a text message, crashes into the rear end of the motorcycle which causes the motorcycle to "shunt" forward into the vehicle in front. As a result of the crash, the motorcycle is damaged on both the front and back end by a crushing type of force or mechanism. As a result of this crash, the motorcyclist suffers serious personal injuries.
It is common to see neck, back and related personal injuries as a result of a rear end shunt motorcycle accident. Even though the motorcyclist in the above example was following the law and otherwise conducting himself in a safe manner, the motorcyclist was put in a vulnerable and dangerous position due to the reckless and careless driving of another person.
While rear end motorcycle accidents are not as common as head on collisions, these rear end motorcycle accidents are still common in most every community. With safer driving, rear end crashes including rear end shunt motorcycle accidents can be prevented. It is important for each driver to pay attention to road, traffic conditions, and signage / signals that direct the flow of traffic. Even though the personal injuries that flow from a motorcycle accident may seem clear on the face of things - insurance companies still challenge most injury cases that are submitted. Medical records and bills are scrutinized by medical doctors and billing personnel hand picked by the insurance companies for the purpose of challenging claims and saving money. Yes, this even applies to a motorcycle accident with serious injuries.
When a motorcyclist is injured from rear end shunt collision or other type of crash, it is important for the motorcyclist and family to have a Florida Motorcycle Accident Attorney in their corner to fight the battle against the insurance companies who often put profits and savings over people. An injured motorcyclist should be compensated for medical bills - past and future and pain, suffering, mental anguish, and loss of enjoyment of life.
David A. Wolf is a Florida Motorcycle Accident Attorney with over 30 years of experience. He has devoted his entire legal career to the protection and enforcement of the rights of individuals. David A. Wolf is the author of 12 books and over 3,500 articles that focus on personal injury and safety issues. Contact David A. Wolf today for a Free Consultation. Get D Wolf On Your Side - At Your Side.