Carelessness and Negligent Driving Cause Injuries to Motorcyclists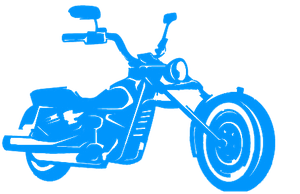 In order to obtain a motorcycle license in the State of Florida, a motorcyclist is required to take a course that is at least 12 hours in length. The approved motorcycle safety courses may contain at least 6 hours of actual motorcycle operation. Furthermore, most motorcycle enthusiasts and owners are very conscientious about motorcycle safety and being knowledgeable about the basic as well as more advanced mechanics and operation of a motorcycle. While most motorcyclists are careful law abiding citizens, there are other drivers on the road who carelessly operate their motor vehicles which, in turn, puts motorcyclists at risk for serious personal injuries. As part of the practical handling of injury claims and cases, the terms "carelessness" and "negligence" are often used interchangeably. There is a specific statute that covers "Careless Driving". There is not a specific statute titled "Negligent Driving". Section 316.1925 (1) , Florida Statutes - Careless Driving requires drivers of motor vehicles to operate the vehicle in a careful and prudent manner taking into account traffic, road conditions, and other circumstances.
With respect to motorcycle accidents, this statute is particularly applicable. Any time that a motorcycle is hit by another vehicle or forced to take an evasive maneuver, the motorcyclist is at risk for endangerment of life, limb, and property. Motorcyclists do not have the same crashworthiness protections that are part of most passenger motor vehicles.
Drivers should be careful when operating a motor vehicle. While this is common sense, it is also clearly part of the Florida Statutes. There are a number of ways in which a driver of a motor vehicle can be careless including but not limited to: rear ending another vehicle, changing lanes when it is unsafe to do so, violating or disobeying street signage and signals, exceeding the speed limits, passing in a no passing zone, passing when it is unsafe to do so, and making a left hand turn into the right of way of a motorcyclist.
It should be noted that under Florida law careless driving does not need to be a willful, malicious, purposeful, or intentional act. For instance, if a driver crashes into a stopped motorcycle as the driver was approaching a red light. The driver was distracted for moment by a flashing billboard. Under these circumstances which happen far too often, the police officer could issue the driver a "careless driving" citation. If the motorcyclist is injured, the motorcyclist could pursue a civil case or insurance claim for negligence or careless driving. While careless driving is similar to negligent driving, the term and act of "reckless driving" is much different. See Reckless Driving Causes Injuries to Motorcyclist.
In the aftermath of a motorcycle accident caused by reckless or negligent driving, there are typically of a number of questions, challenges, and issues for the injured motorcyclist and the family. There is much more to the case or claim than the issuance of a traffic citation to the other driver. Insurance companies are well equipped and staffed to handle a claim or case to protect the insurance companies and the insureds. Insurance companies hire and employ investigators, in-office claims adjusters, field adjusters, bodily injury adjusters, property damage adjusters, medical bills processors, medical bill auditors, and others to form a formidable army to challenge many cases and claims. The injured motorcyclist and family should also have an advocate in place to protect and enforce the legal rights in the aftermath of a motorcycle accident. David A. Wolf is a personal injury attorney who works days, nights, and weekends for his clients. He understands that the needs of the clients are not neatly or predictably contained in a work day from 8 a.m. - 5 p.m. Because of this, David A. Wolf is available early mornings, late nights, weekends, and, yes, holidays to serve his clients. He is the author of 12 books that focus on personal injury and safety issues. Get D Wolf On Your Side At Your Side.