Legal Rights of Injured Motorcyclists
Look Twice for Motorcycles - Legal Rights of Injured Motorcyclists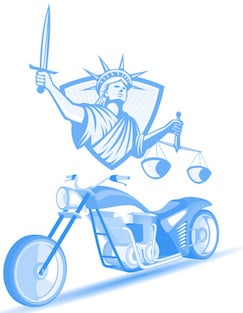 There is a safety campaign and a message out there titled "Look Twice for Motorcycles". It is a simple but important message to be aware of motorcycles and the dangers to a motorcyclist on the road when he or she is hit by a driver of a motor vehicle. Motorcycle accidents can and do result in significant and permanent injuries and even the death of the motorcyclist. Many such Florida Motorcycle Accidents or Florida Motorcycle Crashes can be avoided with safer driving, less distractions, and, yes the awareness of motorcycles and motorcyclists on Florida roads, highways, interstate, and streets.
It has been reported that there are over 600,000 motorcycles registered to in the State of Florida. In addition to these motorcycles, there are out of State visitors to the State of Florida who participate in bike weeks and festivals. Many motorcycle owners also visit the State of Florida for weekend trips, actions, and to visit the wonderful destinations that Florida offers including its theme parks, beaches, and other areas.
The Look Twice for Motorcycles is a simple message and one that can save lives and avoid many such motorcycle accidents. Because of the size of motorcycles, many drivers do not see the motorcycle or motorcyclist / biker. All drivers should look driver and pay close attention to traffic on the roads especially when it comes to the presence of motorcycles. Drive and proceed with due caution. A few seconds or a few minutes on a typical drive will not make any difference in your life, career, or for your family. It will, however, make a huge difference for motorcyclists / bikers and their families.
Here are some other tips when driving on roads with motorcyclists / bikers:
Do not attempt to share a lane with a motorcyclist.
Allow a motorcyclist to utilize the entire lane just like you would for the driver of a motor vehicle.
Pay close attention at intersections for all traffic including all motorcycle traffic. Many motorcycle fatalities occur at or near intersections when a driver does not timely see a motorcyclist / biker.
Do not drive too closely to a motorcycle or any other vehicle. Following a close distance and maintaining a safe speed can avoid many motorcycle crashes.
Avoid distracted driving. Put down the mobile phone. Never text and drive.
Never ever drink and drive. It is against the law and can be deadly for you and others on the road including motorcyclists / bikers.
When a motorcyclist / biker is injured as a result of a Florida Motorcycle Accident, it is important that the injured motorcyclist / biker is represented by an experienced Florida Motorcycle Personal Injury Attorney. Florida law can be quite complex especially when it applies to the legal rights of injured motorcyclists / bikers. If the law was just a matter of common sense and insurance companies always acted fairly, the injured motorcyclist / biker would need the services of a Florida Personal Injury Attorney; however, the real world is filled with challenges and inequities. Time is of the essence in getting a Florida Personal Injury Attorney in place and in protecting / enforcing the rights of the injured motorcyclist / biker.
David A. Wolf has over 30 years of service to his clients and the community. He truly believes in Giving a Voice to Injured Bikers and Their Families. All consultations on motorcycle accidents and other personal injury cases are free. Get a FREE CONSULTATION by contact David A. Wolf. Get D Wolf On Your Side - At Your Side.