Medical Bill Responsibility for Motorcycle Accident Injuries
The Value and Importance of Med Pay Insurance Coverage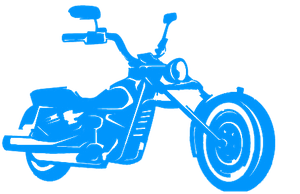 In the State of Florida, insurance regulations as to "motor vehicles" are quite rigid and regulated. Every registered owner of a "motor vehicle" is required to have Property Damage insurance and PIP (Personal Injury Protection) insurance. Property Damage insurance will provide coverage for the payment of repairs or the total loss of a vehicle if the insured person is at fault. For instance, if the other driver is at fault for the crash, you can file a claim for the damages to the motorcycle under the driver's Property Damage insurance. You cannot file a claim under your own Property Damage insurance. As for PIP, this coverage provides payment of medical bills and wage loss to the policyholder or an insured person covered under the policy. It should be noted that an injured motorcyclist cannot file a claim for PIP under the at-fault driver's PIP policy. It just does not work that way. This is where Med Pay comes in. It is important for a motorcycle owner, prior to the motorcycle accident, to purchase Med Pay insurance coverage which will pay for the medical bills related to the motorcycle accident regardless of fault.
It should be noted that Med Pay insurance coverage in the State of Florida is optional for owners of motor vehicles and owners of motorcycles. Since there is no mandatory PIP coverage for motorcycle owners, many motorcyclists will not have any medical coverage for injuries suffered as part of a motorcycle accident. Most Med Pay, otherwise known as Medical Payment, insurance policies cover up to $5,000 of medical bills. This coverage can help out with the bills that accrue up front that are not otherwise covered by health insurance or other sources of payment.
When a motorcyclist suffers personal injuries as a result of the negligent of another driver, one may think that the at-fault driver's insurance company will step up right away and begin paying the medical bills on behalf of the insured motorcyclist. It just does not happen this way. Medical bills are only paid up front or within 30 days of submission if the injured motorcyclist is covered under a PIP (Personal Injury Protection) or Med Pay insurance policy for the motorcycle that was involved in the crash. It does not seem fair or right but this is how the insurance / legal system usually works in these cases.
Assuming that the at-fault driver has Bodily Injury (BI) insurance coverage, this type of coverage may ultimately pay for the out of pocket medical bills of the injured motorcyclist; however, the BI adjuster will typically only make a one-time payment in the form of a settlement from the BI insurance policy. As such, an injured motorcyclist may have outstanding bills and out of pocket expenses accrue prior to the time of the settlement with for the Bodily Injury insurance coverage.
As you can see, insurance coverage issues can be quite confusing especially for claims involving motorcycle accident injuries. To better understand and navigate through this system, it is helpful to have legal representation from an experienced Florida Motorcycle Accident Attorney. David A. Wolf understands the insurance and common battles associated with motorcycle accident injury claims. David A. Wolf is the author of 12 books that focus on personal injury, insurance, and safety issues. Call David A. Wolf today for a Free Consultation. Get D. Wolf On Your Side - At Your Side.