Better Call Wolf
Better Call Wolf - Personal Injury Attorney David Wolf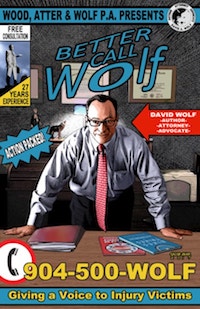 Better Call Wolf . . . David Wolf is a personal injury attorney with over 30 years of experience. In most cases, the beginning of the attorney - client relationship gets started with a simple phone call. It also can start with a text message, e-mail, or in-person conversation. Better Call Wolf is a simple but important message to people in need of advice, guidance, or legal representation. Some people have fear, hesitation, and / or stress in contacting an attorney. There are many thoughts that may come to mind. Will this cost me any money? Will the attorney be friendly? Do I even have a case to pursue? How will I be viewed in contacting an attorney? Is it worth my time? Is it worth the attorney's time?
Attorney David Wolf provides a Free Consultation on all personal injury matters. Having handled thousands of cases in just about every Florida county and beyond, David Wolf has the knowledge, experience, and work ethic to handle the calls and cases the result from the calls. Better Call Wolf is not an answering service, switchboard, or call center staffed by clerks and operators. With Better Call Wolf, you will get right to an experienced personal injury trial attorney. David Wolf is available 24 / 7 to take your telephone calls. In life, the opportunity and need to speak to an attorney does not neatly fit into a 9 a.m. to 5 p.m. work day. As such, David Wolf is available during the early morning, evening, and late night hours. To get the advice, guidance, and legal representation from an experienced personal injury attorney, simply call 904-500-WOLF or 904-500-9653. This is the work and mobile phone for David Wolf. You can call or text your question or request to speak to David Wolf, Attorney. For e-mail contact, you can reach David Wolf at dwolf@davidalanwolf.com
Better Call Wolf . . . Why call David Wolf? He is an AV Preeminent Rated Attorney. An AV Rating from Martindale Hubbell, the oldest legal directory in existence denotes highest rating possible for professionalism and ethics. Through Martindale Hubbell, David Wolf has also earned the distinction of the Client Champion Platinum Award which is based on the Reviews by current and past clients. David Wolf is a 10.0 Superb Rated Attorney with the AVVO Legal Directory which is based on experience, Client Reviews, and Attorney Endorsements. David Wolf is also a proud attorney member of the Justia Legal Directory as a Gold Premium Attorney.
David Wolf gladly shares his wealth of knowledge and experience with others including clients, prospective clients, colleagues, and the community. He is the author of 12 books that focus on personal injury issues. Each book is offered for free to anyone interested in learning more about the various personal injury matters presented in the book. You can see the library of books authored by David Wolf - Library of Personal Injury Books by Attorney David Wolf. Here is a list of the books authored by David Wolf.
Automobile Accidents
Florida Automobile Accidents - Personal injuries - Protecting and Enforcing Your Legal Rights
Bicycle Accidents
Bikes, Trikes and Automobiles - Legal Rights of the Injured Cyclist
Motorcycle Accidents
Watching Out for Motorcyclists - Freedom - Liberty - Justice - Legal Rights of Injured Bikers
Trucking Accidents
Big Trucks - Big Problems - When a Truck Driver Wrecks Your Day and Life Legal Rights of The Injury Victim and Family
Cruise Ship Injuries
Cruise Ship & Boating Injuries - Remedies and Compensation Don't Let Your Legal Rights Get Pirated Away
Child Injuries
The ABCs of Child Injury - Legal Rights of the Injured Child
Day Care Center Injuries
Florida Day Care Center Injuries - Legal Rights of the Injured Child Building Blocks of Knowledge for Parents
Dog Bite Injuries
When a Dog Is Not Man's Best Friend - The Legal Rights of The Dog Injury Victim
Wrongful Death of a Child
When a Parent's World Goes From Full to Empty - The Wrongful Death of a Child What You Need to Know About The Florida Wrongful Death Act
Automobile, Bicycle, and Pedestrian Accidents Involving Children
When the Wheels Stop Spinning - Legal Rights of the Injured Child What Parents Need to Know After the Accident
Child Abuse, Molestation, and Neglect
Broken Trust - Abuse, Molestation, Neglect - The Legal Rights of the Injured Child
Better Call Wolf . . . Make the Call Right Now. 904-500-WOLF or 904-500-9653.