Big Trucks... Big Problems
When a Truck Driver Wrecks Your Day and Your Life - Legal Rights of the Injury Victim and Family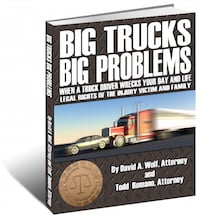 There is a serious danger and risk on streets and highways throughout Florida and the rest of the United States. As long as there are commercial trucks who are massively larger and heavier than passenger vehicles, there will be this serious danger and risk to other drivers and passengers who are these very same streets and highways. With modern advances in technology and the vehicle design of both commercial and passenger vehicles, many accidents are prevented and those that do take place may today result in less severe injuries than decades ago; however, there are still truck accidents that occur daily that result in serious and permanent personal injuries to innocent drivers, passengers, and their respective families.
There are four basic elements to a truck accident case or claim as follows:
Duty;
Breach of Duty;
Causation; and
Damages
While the above elements of a legal case may seem somewhat simple and basic, they are anything but simple and basic especially when an injury victim or the family of an injury victim is going up against an insurance company, corporation, adjuster, or other person / entity with experience in the filed of truck accident claims and cases. Even when the cause or fault for the accident is clear and essentially undisputed, there are still a number of battles or disputes that take place with just about every truck accident personal injury case. Because of this, it is important for the injury victim and, when applicable, the family of the injury victim to have information, guidance, and legal representation when pursuing a claim for personal injuries and related damages.
David A. Wolf is an attorney with over 30 years of experience in the field of personal injury including truck accident cases. During his entire 27 year career, David A. Wolf has always represented the interest and rights of individuals. He is available to his prospective and current clients, days, nights, weekends, and holidays. A crash, need, or question can take place at all times of the day and night. David A. Wolf is the attorney, advocate, and, yes, author to have in your corner to protect and enforce your legal rights. He is the author of a number of books focusing on personal injury and safety issues including the book titled Big Trucks . . . Big Trucks - When a Truck Driver Wrecks Your Day and Your Life - Legal Rights of the Injury Victim and Family. Contact David A. Wolf to get a free copy of this book. The book covers a wide range of topics including Common Questions, Insurance Issues, Wrongful Death, Medical Treatment, Payment of Medical Bills, and a number of other issues that arise in the aftermath of a truck accident or crash.
David A. Wolf provides Free Consultations on personal injury cases including truck accident cases are free. If the case is accepted for legal representation, David A. Wolf will handle the case on a contingency basis which means - No Recovery - No Fee.
Contact David A. Wolf right now. Get D Wolf - On Your Side - At Your Side.