Watching Out for Florida Motorcyclists
Freedom - Liberty - Justice Legal Rights of Injured Bikers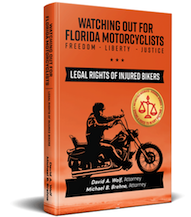 "What light is to the eyes - what air is to the lungs - what love is to the heart, . . . liberty is the soul of man." These insightful words were written by Robert Green Ingersoll, a 19th century American attorney. While these words were written so many years ago, they hold true today especially for men and women with a passion for motorcycles and biking. There is a certain liberty in riding a motorcycle that frees the soul. For some bikers, the occasional ride on the weekend lifts the spirit. For many others, motorcycle ownership is a way of life.
As a personal injury attorney with over 30 years of experience, attorney David Wolf thought it was important to have a book available for bikers and their families that explained the common issues, challenges, questions, insurance benefits, and laws that arise in the aftermath of a motorcycle accident. This book titled - Watching Out for Motorcyclists - Freedom - Liberty - Justice - Legal Rights of the Injured Biker - was written as a resource for those injured in a motorcycle accident. It is also a helpful resource for the families of injury victims. As an attorney, advocate, and author, David Wolf firmly believes in Giving a Voice to Injured Bikers and Their Families. David Wolf provides a Free Consultation on all motorcycle accident inquiries. If the case is accepted for representation, David Wolf will handle the matter on a contingency basis which means that there will be no fees or costs charged by David Wolf unless there is a financial recovery on behalf of the injury victim.
There are all kinds of motorcycles and motorcyclists out on the trails, streets, roads, and highways. Compared to motorcyclists, even the driver of the smallest vehicle has greater protection around him or her. Because of the risk and dangers facing bikers, all motorists should absolutely be on the lookout for motorcycles. Florida law specifically provides that the rights of motorcyclists to be on Florida's streets are equal in every way to motorists. As such, these rights, freedoms, and liberties should be respected by other motorists. Unfortunately, far too often, a biker and the passenger (otherwise referred to as a back rider, pillion, or person in back) are often injured due to the negligence and carelessness of other drivers.
When a motorcyclist or a passenger suffers personal injuries, it can be quite challenging for the victim and their family. Many motorcycle accidents are life threatening and ultimately life changing for those who survive. For those motorcyclists and riders who die as a result of a motorcycle crash, there is a ripple effect through the family, friends, neighborhood, and community. Many motorcyclists are living quite a full life until the fateful day of the motorcycle crash. It is certainly a sad day when the life of a motorcyclist is ended due to the fault of another driver. There are a number of challenges after a motorcycle accident. This book provides helpful information and a general discussion of the laws and challenges that apply to most motorcycle accident claims and cases. When the freedoms, liberties, and rights have been affected by the carelessness or fault of another driver, it is important for the biker and his or her family to be informed, proactive, and protected. As so aptly said by John Locke (1632-1704), "All mankind . . . Being all equal and independent, no one ought to harm another in his life, liberty, or possessions." As such, there should be justice, remedies, and compensation for injured bikers.
Get your free book today and get the help you need. Visit the Contact Us Page of this website to request the free book.