Broken Trust - Abuse, Neglect, and Molestation
Legal Rights of the Injured Child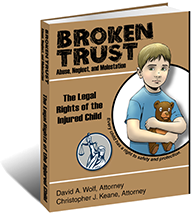 The book titled - Broken Trust - Abuse, Neglect, and Molestation - Legal Rights of the Injured Child - has practical advice and information for parents dealing with the aftermath of the abuse, neglect, or molestation of a child. Attorneys David Wolf and Christopher Keane provide insight and guidance to parents in the aftermath of an incident or series of incidents causing harm to a child.
The laws and procedures as to abuse / neglect cases and insurance can be quite confusing and complicated. While common sense and logic can help a parent with some matters, laws and insurance policies have many twists and turns. Furthermore, insurance companies and businesses have their own attorneys, risk managers, and claims adjusters in place. The parent of an injured child also deserves to be backed or supported by a team of advocates to protect and enforce the legal rights of the injured child. The book covers a variety of topic including but not limited to the following:
Medical Care, Treatment, and Documentation of Injuries
Injuries Associated with Child Abuse
Shaken Baby Syndrome, Head Injuries, and Traumatic Brain Injuries
Wrongful Death
Sexual Abuse
Typical Places Where Child Abuse Cases Happen
Schools, Day Care Centers, Youth Sports, and Church Related Activities
Mandatory Reporting of Child Abuse
Common Questions in Child Abuse Cases
Settlement, Compensation, and Damages in Child Abuse Cases
When a child suffers serious personal injuries as a result of the neglectful or purposeful acts of others, there are many challenges faced by both the child and the family. First and foremost, the medical and emotional needs of the child should be met. The medical care may involve fire rescue paramedics, emergency room personnel, orthopedists, neurologists, surgeons, therapists, psychologists, psychiatrists, mental health counselors and other medical professionals. Depending on the facts and circumstances, law enforcement and / or the applicable social service agency should be contacted. Once the initial medical needs of the child are met, the parents are often faced with the issue of payment of bills and then follow up care.
Soon after there is a traumatic incident or event, parents may be contacted by investigators, insurance adjusters, and others seeking information regarding the child and the parents. At these most challenging times, it is often helpful to have the advice, consultation, and representation by a Child Injury Lawyer. An experienced attorney in child injury cases can advise a parent as to issues including medical bills, medical treatment, insurance coverage, insurance claims, legal rights, compensation, damages, and other matters. These legal claims/legal cases are handled on a contingency basis (i.e., no recovery, no fees). Because of these attorney fee arrangements, parents are able to secure the services of a qualified Personal Injury Attorney without having to pay any money up-front to the attorney for investigation or representation. There are three basic issues that are part of most every child injury case.
If you have a child who has suffered an injury, don't go it alone. Yes, be strong and proactive in dealing with the injury, but use the help that is available to you. Even though most parents do their best to prevent an injury to a child, accidents do happen and will happen. Some are unexpected, and nobody is at fault. On the other hand, some incidents resulting in child injury are caused by the fault, negligence, or even intentional acts of others.
The book is an overview of issues that may arise when a child is injured. Don't go it alone. As a Child Injury Attorney and parent, it is my mission and goal to Give a Voice to Injured Children and their Families.