Cruise Ship & Boating Injuries
Remedies and Compensation - Don't Let Your Legal Rights Get Pirated Away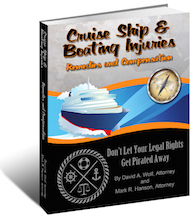 What starts out as a day or week of fun can end in a serious cruise ship or boating related personal injury. For most people, a cruise is wonderful experience filled with site seeing, aquatic activities, great food, time with family and friends, and some needed rest and relaxation. Unfortunately for far too many people, there are serious personal injuries that take place on a cruise ship or during cruise ship related excursions and activities. Like any other corporate entity or business, a cruise ship and its staff must act in a reasonably safe manner and serve the interest of the invitee - the cruise ship passenger. If a person is injured due to the negligence or fault of a cruise ship line, the injury victim can seek out legal advice and representation for compensation for past and future medical bills, medical care, lost wages, loss of earning capacity, pain, suffering, mental anguish, and loss of enjoyment of life. Like cruise ship lines, boat owners and operators also have a duty to act in a reasonably safe manner under the circumstances so that boat passengers, swimmers, and others are not injured. A boat owner and operator should always be on the lookout for swimmers and others just like a driver should be on the lookout for pedestrians and bicyclists. Certainly, bad things and personal injuries are more likely to take place any time that alcohol or drug consumption is involved with the operation of a ship or boat.
This book - Cruise Ship & Boating Injuries - Remedies and Compensation - Don't Let Your Legal Rights Get Pirated Away - was written as a way to inform and to some extent empower injury victims and their families. Cruise ship cases are quite unique in many respects. For instance, did you know that the cruise ship ticket does and can define your legal rights as to time limits, jurisdiction, notice, and choice of forum or court? That's right all there on the cruise ticket. Unlike other personal claims and cases, a cruise ship case often is a 6 month notice requirement and a 1 year statute of limitations. The failure to comply with these most important prerequisites to the proper filing of a lawsuit can and does lead to the waiver or loss of important legal rights. When a person is injured as a result of the negligence of a cruise ship or boating incident, it is important to take timely action which includes the hiring of a Maritime Personal Injury Attorney. Other topics covered in the book include:
General Legal Issues
Medical Care, Treatment and Documentation
Cruise Ship and Boating Accidents - Types of Injuries
Wrongful Death
Other Common Questions
Settlement, Compensation, and Damages
Cruise ship companies and insurance companies are well represented by management, risk managers, investigators, and attorneys. An injury victim suffering from the aftermath of the negligence of a company or employee should also be well represented. Order the book and contact David A. Wolf for advice, guidance, and legal representation for cruise ship and boating related personal injuries. There are far too many twists and turns to go it alone. For over 30 years, David A. Wolf has represented clients who have been injured on land or sea. As noted on the back of the book, David A. Wolf firmly believes in Giving Direction and a Voice to Injury Victims.