When A Dog Is Not Man's Best Friend
The Legal Rights of the Dog Bite Victim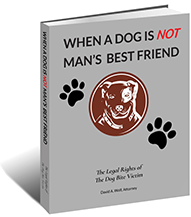 A dog is commonly known as or referred to as "man's best friend". This saying or expression dates back to 1764 when Voltaire wrote the following:
It seems that nature has given the dog to man for his defense and for his pleasure. Of all the animals it is the most faithful: it is the best friend a man can have.
Certainly, dogs make for wonderful companions. In most instances, a dog is considered a part of the family. Unfortunately, a dog can also be the center or cause of a serious personal injury or even the death of an adult or child. The statistics involving dog related attacks and injuries are quite frightening.
An estimated 4.7 million dog bites occur annually in the United States.
An estimated 368,245 persons are treated in emergency departments for nonfatal dog bites annually.
Approximately 42% of dog bites occurred in children aged less than 14 years.
Dog bite rates are significantly higher for boys (293.2 per 100,000) than for girls (216.7 per 100,000).
Work-related dog bites are also a significant injury problem, 16,476 dog bites, or 7.9% of total dog bite injuries were work-related.
Children sustain 3.2 times higher bite rates that require medical attention than adults (6.4 per 1000 v. 2 per 1000).
Young children were more likely than adults to be bitten on the head, neck or face. Of course, when an adult or child is dealing with the aftermath of a dog bite or dog attack, the statistics are far less important than the immediate challenges to the dog bite victim. These challenges include those related to the injuries - physical and emotional, medical care, medical bills, insurance issues, and other matters.
It is extremely difficult for a dog bite / dog attack victim, who may know very little of the specific animal laws in his or her state, to handle all of the issues that inevitably arise. Further, most people have limited experience and knowledge in dealing with legal and insurance matters. This book provides information to the dog bite victim and his or her family to provide information and guidance in the aftermath of an attack causing personal injuries.
It is important for victims to be educated as to these issues and legal matters so that they can make an informed decision about medical treatment, insurance coverage, insurance claims, reimbursement and legal representation. Although this book contains invaluable information, it is not intended to be used as a recipe or formula for handling a claim or case on behalf of a dog bite / dog attack victim. There are far too many factual and legal complexities in any given personal injury claim or case to be able to write a "cookie cutter" manual on how to handle a dog bite claim or case. Therefore, this book should only be used as a guide and reference in pursuing a legal claim or case with the benefit of the services and representation of an experienced Dog Bite Personal Injury Attorney. When an adult or child suffer injuries as a result of dog bite or animal attack, the victim deserves a voice and an advocate to protect and enforce his or her rights under the law. This book is intended to provide the dog bite victim with information to help him or her better deal with the issues of a personal injury case. Get this book find find out more about the legal rights of dog bite victims.