Florida Day Care Center Injuries
Legal Rights of the Injured Child Building Blocks of Knowledge for Parents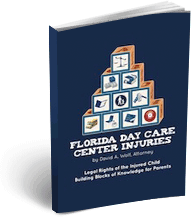 A Florida Day Care Center should be a safe haven for children. Children should be provided with activities and supervision commensurate with each's child's abilities, needs, and situation. Parents should be able to rely on a Florida Day Care Center to provide for the needs of the children under their care. Many Florida Day Care Centers provide a wonderful educational and custodial environment for children; however, some Florida Day Care Centers, whether it is a moment of inattention or a pattern of neglect, allow children to become victims of preventable personal injuries, and, in some cases, wrongful death. The legal dues of a Florida Day Care Center (including its staff, employees, and child care providers) are delineated in the Florida Statutes, the Florida Administrative Code, and the Florida Case Law. While it is important for Florida Day Care Centers to know and follow the laws, rules, and regulations, it is also important fro Florida Day Care Centers and their staff members to have common sense and the ability to make good decisions on the spot. Staff members should take initiative when children are at risk for or suffer personal injuries requiring first aid and / or other medical attention. The information provided by this book is also helpful for parents who just want to learn more about the rights of a child in a Florida Day Care Center and the legal responsibilities and duties of the Florida Day Care Center and its staff. There are four essential elements necessary to establish a civil claim or case against a Florida Day Care Center as follows:
Duty. Once a day care center accepts the child into the program, the day care center has a duty to provide a reasonably safe environment for the child. There is no immunity for private or public day care centers for injuries that are caused by the negligent actions or inactions of day care center employees or management. There is a duty to provide reasonable supervision and to properly inspect and maintain the day care center including common areas, bathrooms, classrooms, indoor play areas, outdoor play areas, and playgrounds in a reasonable safe condition. There is also a duty to provide safe transportation and driving when the day care center chooses to provide such services.
Breach of Duty. If the day care center breaches any of its duties / responsibilities, the day care center can be help legally responsible for the consequences. Of course, there are a number of ways in which a day care provider may breach a particular duty. Here are just a few examples:
Proximate Cause. Proximate is the legal concept that requires a more or less direct relationship between the duty, breach of duty, add the damages or injuries. In other words, the breach of duty must directly result in the injuries for there to be a claim or case to pursue on behalf of the child.
Damages. Injuries or damages are generally necessary, from a practical standpoint, to file a claim or lawsuit against the day care center. If the child did not suffer any physical or psychological damage whatsoever as a result of the negligent conduct of the day care center, it can be quite challenging to pursue such a case. It should be kept in mind that each case must be evaluated on its own particular facts and circumstances including those that pertain to the claimed damages or injuries resulting from the negligence by the day care center.
You can read more about the elements of a case, the applicable Florida Day Care Center Laws, and other topics in the book. Get the book today and find out more about your child's rights in a Florida Day Care Center.