Motorcycle Accidents - Flagler Beach Personal Injury Attorney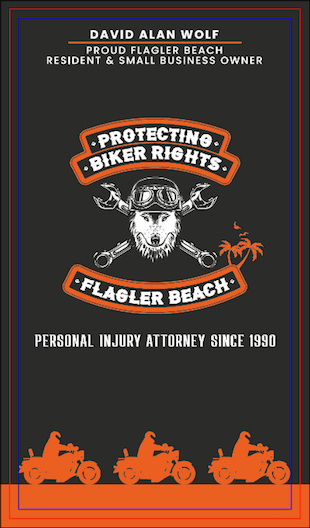 In Flagler Beach and the surrounding areas, motorcyclists / bikers are abundant in number and variety. It is important to be on the watch or look out for motorcycles. Furthermore, it is imperative that all drivers obey the local traffic regulations and speed limits. Two main roadways in and through Flagler Beach are State Road 100 (Moody Boulevard) and A1A (Oceanshore Boulevard). Through Flagler Beach, State Road 100 (Moody Boulevard) runs East to the beach and West to Interstate 95. A1A runs North to Beverly Beach and South to a few state parks and Ormond Beach.
Flagler Beach is home to many bikers who travel through the local streets and then venture out to nearby towns, cities and counties. Flagler Beach also attracts visiting bikers who get to enjoy our scenic roadways, highways, and beaches. Unfortunately, some of our resident bikers and visiting bikers are the victims of motorcycle accidents through no fault of their own. In the aftermath of a motorcycle crash, there are many challenges faced by the biker and families of the injury victim. Some relate to medical care while others related to lost wages and the at time overwhelming stress associated with the pain, suffering, loss of enjoyment of life, and mental anguish associated with these crashes.
For over 30 years, attorney David Wolf has represented injured bikers and their families when there is a motorcycle accident in Flagler Beach and elsewhere in the State of Florida. As a lifelong Floridian and a Double University of Florida Gator graduate, David Wolf has travelled the State of Florida and has appeared in circuit court cases from the Florida Keys to the Florida Panhandle. Along the way and through the years, David Wolf has proudly represented bikers facing the many challenges that present themselves in the aftermath of a Florida motorcycle accident.
David Wolf is the author of the book titled - Watching Out for Florida Motorcyclists - Freedom - Liberty - Justice - Legal Rights of Injured Bikers. The book was written to provide information and guidance to injured bikers on topics including insurance, medical bills, medical treatment, compensation, and other topics. In the State of Florida, the laws that apply to motorcycles and insurance are a bit different than other motor vehicles. As such, the handling of a Florida motorcycle accident case is a bit different than other automobile accident cases.
When hiring a personal injury attorney, it is important to get an attorney who is experienced and skilled. It is also important to get an attorney who has a strong work ethic and both the ability and desire to get the job done and get it done right. David Wolf has over 30 years of experience as a personal injury attorney. From the age of 14 through the end of law school, David Wolf worked in a variety of jobs including landscaper, plant nursery worker, summer camp counselor, bus driver, and, yes, even a cook at McDonald's flipping hamburgers and making fries. Through each job, David Wolf understood the job at hand and the importance of getting the job done right no matter the job. As an attorney, the work ethic and pride of David Wolf continues but in the form of a proud personal injury attorney who has been fortunate enough to represent a wide cross section of people from all walks of life.
Contact David Wolf today for a Free Consultation. You will get a same day consultation with an experienced attorney who will provide you with a prompt assessment of your case and also provide courses of action to take to protect and enforce your legal rights. If attorney David Wolf takes on the case, he will handle it on a contingency basis which means that there will not be any attorney fees or costs charged unless there is a financial recovery or settlement.
David Wolf is a proud Flagler Beach resident and small business owner. Get real answers and representation by an attorney who will know the law and you as a person.
Contact David Wolf at (386) 348-4695 or dwolf@davidalanwolf.com
David Wolf applies a steadfast work ethic to Give a Voice to Injury Victims and Their Families.