Flagler Beach Biker Community - Strong, Proud, Charitable, and Patriotic - Flagler Beach and Beyond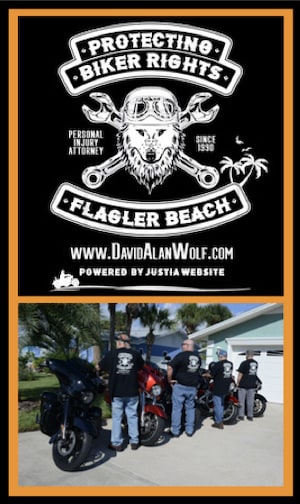 The biker community in Flagler Beach is proud, charitable, and patriotic. The weather in the State of Florida (except for days filled with torrential rains and the occasional Hurricane) allows for year round motorcycle rides whether it is a short ride down the street for an errand or a longer ride to another town or as part of a group ride.
The biker community in Flagler Beach is proud. It consists of bikers from all walks of life. Some are young and some are old. Some are lifelong Floridians while others come from other parts of the country and beyond. The bikers in Flagler Beach share a love of motorcycles and that certain pride in community, country, and freedom that seem to go hand in hand with motorcycle ownership. In Flagler Beach, Daytona Beach, and the surrounding areas, you will not see very many motorcycles on the road that are not kept in tip top shape. Maintenance is one of the key components to both the safety of the biker as well as others on the road. As written by Spider Man creator Stan Lee, "With great power comes great responsibility." This proverb has become known as the Peter Parker Principle. This proverb can also apply to motorcycle ownership. The members of the Biker Community in Flagler Beach take pride in the wonderful piece of machinery in the form of a motorcycle. Bikers truly take the Peter Park Principle to heart as part of their daily life and their identity as a motorcycle owner.
The biker community in Flagler Beach is charitable. When a local lifeguard suffered a serious spinal cord injury, the local chapter of a motorcycle groupjoined together to organize a charitable motorcycle ride to benefit the lifeguard (Caleb Struble) and his family. This is just one act of kindness and community giving by this club and members among many that are out there every day by the biker community in and around Flagler Beach. Whether it is a kind act of one biker or a big group of bikers, it is clear that the biker community is kind and charitable with a true understanding of giving is and what giving should be.
The biker community in Flagler Beach is patriotic. Certainly, there is that certain love for family, country, liberty and freedom by the biker community. It is one thing to just wave and display the flag. It is quite another to stand by it and ride with it in support of the principles of this country and its constitution.
David Wolf proudly supports and represents bikers in Flagler Beach and throughout the State of Florida. He is recognized as an AV Preeminent Attorney with Martindale Hubbell, a Super Lawyer with Thomson Reuters, and a Superb 10.0 AVVO Rated Attorney. Furthermore, in recognition of his ratings and client satisfaction, he has been awarded the Client Champion Platinum Award by Martindale Hubbell.
In addition to his role as an attorney, David Wolf is an author of 12 books including the book titled - Watching Out for Motorcyclists - Freedom - Liberty - Justice - Legal Rights of Injured Bikers. The book has chapters on the following topics:
Risks for Motorcyclists
Laws and Rights of Motorcyclists
Motorcycle License, Training and Insurance
General Issues and Common Questions Arising After a Motorcycle Crash
Rules of the Road, Negligence and Rights of Bikers
Medical Treatment and Follow Up
Motorcycle Property Damage - Legal Rights to Compensation
Insurance Issues and Common Questions
Florida Motorcycle Accidents - Types of Injuries
Florida Motorcycle Accidents - Wrongful Death
Settlement - Compensation - Damages
The book provides an overview on the above topics by addressing the questions / issues that commonly arise in the aftermath of a motorcycle accident. It is quite a stressful time dealing with the aftermath of crash that it not the fault of the biker. During these challenging times, it makes sense to contact an attorney for advice, guidance, advocacy, and representation. Attorney David Wolf provides a Free Consultation on all injury cases including those related to motorcycle accidents.
David Wolf firmly believes in Giving a Voice to Injured Bikers and Their Families. Contact David Wolf today at (386) 348-4695 or send an e-mail to dwolf@davidalanwolf.com
With David Wolf as your attorney, you will get an experienced attorney committed to you and the rightful conclusion of the case.