Bicycle Accidents - Flagler Beach Personal Injury Attorney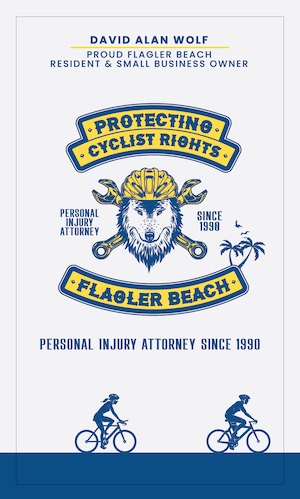 In the State of Florida, the weather permits for year round outdoor activities including those related to cycling. It is important for all drivers to be on the look out for cyclists in and around the community. Whether it is a pack of competitive cyclists on a group ride or a single cyclist on or near the streets, it is vital that drivers slow down and respect the safety of cyclists. Unfortunately, due to excessive speed, inattention, distraction, or just carelessness, cyclists are the victims of accidents that could have been wholly prevented with safer and more attentive driving. While mobile phones are great tools, they are also destructive ones in the hands of a driver. On a daily basis, cyclists are the tragic victims of distracted drivers who are paying more attention to their e-mails, text messages, and Facebook posts that the road, traffic, and safety of cyclists.
For over 30 years, personal injury attorney David Wolf has represented cyclists in Flagler Beach and throughout the State of Florida. He understands the intricacies and application of Florida law to these cases. David Wolf is the author of the book - Bikes, Trikes & Automobiles - Legal Rights of the Injured Cyclists. The book covers a wide range of topics including those related to insurance, liability, compensation, wrongful death, and other topics. As noted on the back cover of the book, bicycles are powered by people with enforceable legal rights.
It should be kept in mind that a bicycle is no match for a motor vehicle even a compact sized one. Due to the speed, weight, and force of motor vehicles, a cyclist can and does often sustain serious personal injuries when there is a crash. Furthermore, there can be serious injuries after impact when the cyclist hits a barrier, sign, and / or the pavement. In the aftermath of a Flagler Beach bicycle accident, there are many challenges faced by the injured cyclists and the family of the injured cyclist. Unfortunately, insurance companies often are more concerned with saving a dollar and delaying compensation than actually using its funds to help out injury victims and their families. There is a process to go through and it is important to have experienced legal representation in place to protect and enforce the legal rights of the injured cyclist.
David Wolf has been working since he was 14 years old. While the jobs prior to law school graduation were a bit different than being an attorney, the prior jobs helped teach David Wolf the value and importance of a hard day of work. David Wolf took pride in his work as a landscaper, nursery work, bus driver, camp counsellor, and, yes cook at McDonald's. When he started practicing law over 30 years ago, he took these valuable life lessons to heart and has worked tirelessly to protect and enforce the legal rights of his clients who come from varying walks of life and experiences. Certainly, a bicycle accident can affect a person's ability to work, ability to complete household chores and responsibilities, ability to participate in hobbies and interests, and yes, the ability to enjoy life. When the careless driving of a person impacts an injury victim's life, compensation can and should be sought on behalf of the victim and family.
In Flagler Beach and Flagler County, there are a number of bicycle trails and bicycle lanes. There are also many locations in which the designated bicycle lane is narrow or even non-existent. Again, it is important for drivers to be on the look out for cyclists / bicyclists. Slow down and provide the cyclists room to travel on or near the roadway as the space / lane permits.
David Wolf provide a Free Consultation on all personal injury cases including those related to bicycle accidents. Through the consultation, attorney David Wolf will review the applicable laws, insurance regulations and policies, and other matters. David Wolf feels that it is important to educate his clients as to their legal rights and also advise them of available resources related to medical care and insurance benefits. If David Wolf accepts a bicycle accident case for representation, he will handle the case on contingency basis which means that there will not be any charges for attorney fees or costs unless there is a financial recovery / settlement.
Contact David Wolf today at (386) 348-4695 or dwolf@davidalanwolf.com for a Free Consultation. He is available days, nights, weekends, and holidays to provide guidance, direction and legal representation as needed. David Wolf firmly believes in Giving a Voice to Injury Victims and Their Families.