Pedestrian Accidents - Flagler Beach Personal Injury Attorney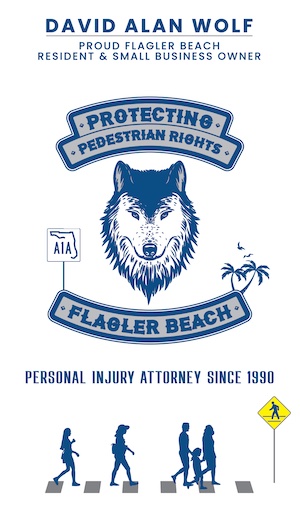 Florida enjoys a reputation as the Sunshine State and a destination for many people seeking to have a vacation adventure or a golden retirement. Unfortunately, Florida also has the reputation for being ranked Number 1 of all 50 States for frequency of pedestrian deaths and injuries. Florida also has 9 of the deadliest metropolitan areas for pedestrian accidents including the Deltona - Daytona Beach - Ormond Beach which ranks in the number 4 spot.
While the City of Flagler Beach did not make the list of dangerous places on the survey, there are still many pedestrians in and around Flagler Beach and unfortunately still accidents that take place that result in injuries to pedestrians. Flagler Beach is a small town that welcomes people to its beaches whether they are long time residents or first time visitors. There are some crosswalks and crosswalk lights in and around Ocean Shore Boulevard / A1A. There are also some areas that provide orange flags that pedestrians can carry going to and from the beach. Speed limits are also lowered in areas with heavy foot traffic.
Certainly, all drivers in the State of Florida should be on the look out for pedestrians including but not limited to the children in the community. One of the most heartbreaking cases handled by David Alan Wolf involving a young child who hit and killed while walking towards a school bus stop area. The death of this child had a ripple effect through the family, community, and school.
Drivers should yield to passengers who are in crosswalks, sidewalks, and otherwise in the or near the roadway. Florida law does not necessarily place liability on a driver for hitting a passenger who carelessly darts into traffic who is not in a crosswalk or other designated pedestrian area; however, it should be noted the Florida is a comparative fault state. In other words, even if a pedestrian bears some of the responsibility or fault for the incident, a legal case may be brought on behalf of the injured pedestrian if it can be shown that there was fault or negligence on behalf of the driver.
David Wolf is an attorney with over 30 year of experience in handling personal injury matters including those related to pedestrian accidents. He is the author of 12 books that focus on personal injuries including the book titled When the Wheels Stop Spinning - Legal Right of the Injured Child - What Parents Need to Know After the Accident. This book has a section that focuses on pedestrian injuries, laws, and rights. While the book tends to focus on child pedestrian injuries, the concepts for the most part can be applied when the injury victim is an adult. Topics from this book including the following:
What are the Legal Rights of the Injured Child Pedestrian?
Should a Parent pursue a Claim or Case on Behalf of the Injured Child Pedestrian?
Can a Case or Claim Still be Pursued on Behalf of an Injured Pedestrian if There is no Police Report?
What Factors are Considered in a Pedestrian Child Injury Case?
What are the Rights of an Injured Pedestrian Who Does not use a Crosswalk?
Can a Child or Parent be Held Comparatively At Fault for the Child's Injuries Caused by a Pedestrian Accident?
What are the Challenges and Issues Associated with a Hit and Run Accident Involving a Child Pedestrian?
Should Crossing Guards be Posted on School Days
What are the Risks and Dangers of Child Pedestrians Walking to School?
David Wolf provides a Free Consultation on all personal injury cases including those related to pedestrian accident. For the initial consultation, you will get to speak to attorney David Wolf the same day you call. If the case is accepted for representation, David Wolf will be the lead attorney on the case and the main point of contact for you. David Wolf is an award winning and top rated attorney who values his clients. Contact David Wolf at (386) 348-4695 or dwolf@davidalanwolf.com. For over 30 years, attorney David Wolf firmly believes in Giving a Voice to Injury Victims and Their Families.