Flagler Beach Office - David Alan Wolf - Personal Injury Attorney
As lifelong Floridian and a Double Gator (University of Florida) graduate (Business Finance and Law), David Wolf saw how Flagler Beach would be a great place to live and a great place to work. Unlike many cities and towns arose the State of Florida, Flagler Beach has maintained its small town charm. Flagler Beach is rooted in the strong connection it has with its residents, frequent visitors to the beaches and local attractions, and, yes, the small businesses that line the streets in Flagler Beach including the main roadway (Moody Boulevard) from I-95 over the intracoastal right to Ocean Shore Boulevard (A1A).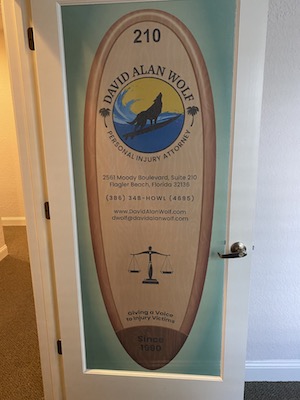 For over 30 years, David Wolf has worked in a small firm providing representation for injury victims and their families. He takes pride in his ability to be available to his clients days, nights, weekends, and holidays. In the pre-sunrise early mornings, you may see David Wolf on one of his daily walks down Ocean Shore Boulevard / A1A to get some exercise in and to plan for the day ahead. With mobile phone in hand at just about all times, clients and prospective clients have easy access to David Wolf by phone, text message, or e-mail. As noted by David Wolf, "when a person is dealing with the aftermath of an accident or a traumatic event, the person deserves access and information from the attorney. "With David Wolf, you get access and so much more as he brings 30 years of experience, knowledge, and problem solving skills to the table for each and every client. For Flagler Beach lawsuits, state court cases are filed in the Seventh Judicial Circuit. The courthouse is located in Bunnell at 1769 East Moody Boulevard which is a straight shot down Moody Boulevard from the Law Office of David Alan Wolf which is located near the Intracoastal Bridge.
David Alan Wolf - Personal Injury Attorney has an office located at 2561 Moody Boulevard, Suite 210, Flagler Beach, Florida 32136. You can reach David Wolf during the regular work day (8:00 a.m. - 5:00 p.m.) at 386-348-HOWL (4695). He is also available early mornings, evenings, nights, weekends, and holidays. During those time periods, calls to the office will roll over to his mobile phone.
David Wolf has handled cases in most of Florida's 67 counties throughout his career. He provides a Free Consultation for all personal injury cases including those related to automobile accidents, truck accidents, motorcycle accidents, bicycle accidents, pedestrian accidents, work related accidents / incidents (worker's compensation), medical malpractice, day care center injuries, child injuries, nursing home neglect, slip and fall cases, trip and fall cases, and other personal injuries matters.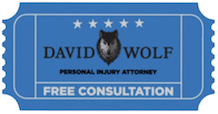 David Wolf is an award winning attorney who also has been recognized by his peers and attorney directories for his years of service to his clients and commitment to excellence. He is an Eagle Member with the Florida Justice Association. Martindale Hubbell, which has been in print since 1868, has designated David Wolf as an AV Rated attorney which the highest level for skill and integrity. David Wolf also is designated at a Platinum Client Champion which is awarded to attorneys who excel at service to their clients. David Wolf is a 10.0 Superb Rated Attorney in the AVVO Lawyer Directory. He is also a 10.0 Rated Attorney in the Justia Lawyer Directory. Thomson Reuters is a company that was formed originally as Reuters in 1851 in England. Over the years, Thomson Reuters has grown into a larger international community that operates in different industries including the legal industry. Super Lawyers is operated / managed by Thomson Reuters. There is a rigorous selection process to be named a Super Lawyer. David Wolf is a Super Lawyer in the field of personal injury. He is quite proud of this award in that there are multiple factors considered in the selection process.
Contact David Wolf today for a Free Consultation to get advice, guidance, and direction as to your legal rights related to a personal injury matter. Call David Wolf at (386) 348-HOWL or (386) 348-4695. You can also send him an e-mail at dwolf@davidalanwolf.com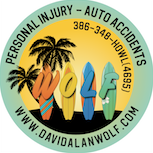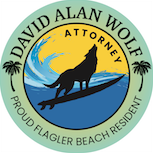 Get D Wolf On Your Side - At Your Side for your personal injury case in Flagler Beach or other locations. Remember, Where There Is A Wolf - There Is A Way.