Biketober Fest Motorcycle Rally Daytona Beach, Flagler Beach, and Surrounding Areas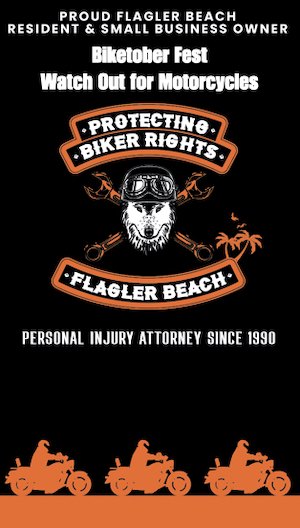 The State of Florida allows for motorcycle riding and activities throughout the year. On any given day, there will be a number of bikers out in the community and on the roads. There are certain times of year and certain events that tend to attract large crowds of bikers. Once such event is Biketober Fest in Daytona Beach, Florida. It is estimated that the Daytona Beach and surrounding areas which includes Flagler Beach sees 100,000 or more visitors during Biketober Fest activities. Known as the "little brother" to Daytona Bike Week which is held in March, Biketober Fest is a major motorcycle event which gives bikers, their friends, and families an opportunity to share experiences, have some fun, and, yes ride their motorcycles in and around the Daytona Beach and Flagler Beach areas. It is important during Biketober Fest that bikers and drivers alike respect each other, the road, and the community. Safety should be a paramount concern for all people out there and, yes, please Watch Out for Bikers. As residents and visitors to the Daytona Beach and Flagler Beach areas, bikers are good for the economy and truly care about the concepts of freedom, liberty, and justice.
David Wolf is a personal injury attorney with offices located in Flagler Beach and Jacksonville, Florida. He has over 30 years of experience in representing injury victims including injured bikers in the aftermath of a motorcycle accident. David Wolf is an AV Preeminent Rated Attorney with the Martindale Hubbell Directory and has been designed as a Super Lawyer by Thomas Reuters. Both Martindale Hubbell and Thomas Reuters are companies that were formed over 100 years ago and are among the oldest and most respected rating authorities for attorneys and law firms. David Wolf is also related as a Superb 10.0 Attorney by the AVVO Lawyer Directory and the Justia Lawyer Directory. While awards are nice to have in place and can be measuring sticks of sorts, David Wolf cares most about the results for his clients and the impact on their lives. Here is a Review from one of his client as posted on David Wolf's Google My Business Page:
In the past 25 years, I have never felt more comfortable with an attorney than I did when David Wolf represented me and my family in a personal injury case. Mr. Wolf clearly has the experience and respect amongst his peers to provide A+ representation at all stages of litigation. I wouldn't hesitate to recommend Mr. Wolf to any member of my family or my close friends.
In the aftermath of a motorcycle accident as well as other accidents, it is important for the injury victim and family to seek out legal advice as to the legal rights of the injured biker. In the State of Florida, the laws that apply to motorcycle accidents are slightly different than those that apply to victims of automobile accidents. As such, it is important to get an attorney with the experience and know how to get the job done and get it done right. David Wolf is the author of over 4,000 articles and 12 books that focus on personal injury matters and cases. He is the author of the book - Watching Out for Florida Motorcyclists - Freedom - Liberty - Justice - Legal Rights of Injured Bikers. Click here to read more about the book and request a free copy of the book.
For all motorcycle accident cases, David Wolf provides a Free Consultation so that the potential client can get advice in a low stress and non-pressured manner. From there, the potential client can then decide if there is a desire to push forth with formal legal representation by Mr. Wolf. Cases that are accepted for representation by David Wolf are handled on a contingency basis which means that there are no attorney fees or costs charged unless there is a financial recovery or settlement.