Motorcycle Accidents and the Florida Accident Report Privilege - How Does It Work?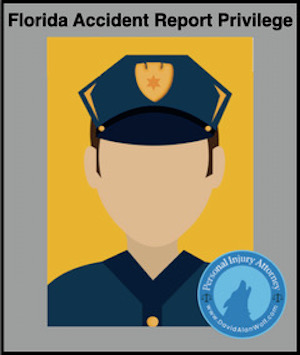 In the State of Florida, there are special rules and laws in place as they pertain to accident reports. It it called the Florida Accident Report Privilege and is incorporated in Section 316.066 (4), Florida Statutes. In Florida, accident reports, the issuance or lack of issuance of a citation, and statements made by participants to the crash are not admissible in a civil court. As such, the parties and the respective insurance carriers are not locked in or officially bound by the findings set forth in the accident report / crash report. In most instances, the insurance carriers will go with the findings in the crash report; however, it should be noted that the insurance carriers are not legally bound to do so.
When there is a crash involving a motorcycle, there must be proof or evidence that the crash was the fault of another driver in order to pursue compensation for the injuries, medical bills, and other damages caused by the crash. Proof can come in different forms including but not limited to the observations / statements of the biker independent of the crash report, observations / statements by other driver independent of the crash report, photographs / videos of the crash or events leading up to the crash, and observations / statements by witnesses independent of the crash report. As an example, let's say the other driver walked up to the injured biker and makes the following statement: "I am sorry that I did not see you. I was on the phone and got distracted by digital billboard." If these statements were made outside the course and scope of responding to a police officer's questions, then these statements may be admissible as a statement against interest in a civil case.
When there is a crash, it is possible that insurance carrier will concede up front that its insured driver was at fault for the crash; however, this decision may change over time based on further investigation and review of the case.
As you can see by the Florida Accident Report Privilege, Florida law can and does have some twists and turns as it related to liability, responsibility, compensation, and damages. Because of the complexities of Florida law and the challenges and roadblocks often put up by insurance companies, it is important for the motorcycle accident injury victim and the family to seek out legal representation from an experienced motorcycle accident attorney.
David Wolf provides a Free Consultation on all personal injury cases. The consultation is provided on the spot in most cases or at least within the same day of contact. David Wolf firmly believes in Giving a Voice to Injury Victims and Their Families. He is the author of over 4,000 articles and 12 books that focus on personal injury issues. Notably, David Wolf is the author of the book titled - Watching Out For Motorcyclists - Freedom - Liberty - Justice - Legal Rights of Injured Bikers. Get the book for free at Free FLorida Motorcycle Book for Injury Victims.
Flagler Beach is an awesome place to work and live. It is one of Florida's beach towns that has kept its charm and character in an environment that is often filled with over development and excessive strip malls. David Wolf is a proud resident and small business owner of a law firm with an office located in the City of Flagler Beach on Moody Boulevard. Over the past 32 years, David Wolf has handled personal injury and motorcycle cases in just about every one of Florida's 67 counties including but not limited to Flagler County, Volusia County, Putman County, St. Johns County, and Duval County.
Contact David Wolf today for a Free Consultation at (386) 348-HOWL or (386) 348-4695. You can e-mail David Wolf directly at dwolf@davidalanwolf.com. For over 32 years, David Wolf has been providing representation to injury victims. It is all that he does.