What Are the Legal Issues and Rights With Intersection Motorcycle Collisions?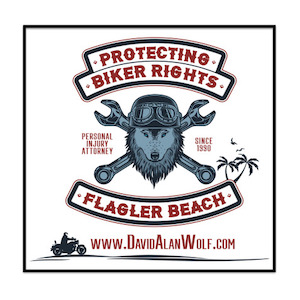 In Flagler Beach and the surrounding areas, motorcycles are on the road all year. While motorcycle traffic is a bit elevated during special events like Daytona Bike Week and BikeToberfest, you will see motorcycles in the road daily. It is important to be on the look out for motorcycles and to respect the rights of bikers.
When there is an interaction collision involving a motorcyclist, the injuries can be quite serious and deadly. All bikers and drivers should obey the rules of the road, traffic signals, and speed limits. Certainly, there would be less crashes and less injuries if all drivers obeyed the speed limit and used their best efforts and judgment to operate their vehicles in a safe and reasonable manner. Unfortunately, far too many drivers are in a hurry to get from Point A to Point B and also are constantly impaired to some extent by their mobile devices, distractions, and yes alcohol and drug use.
There are some typical rules of the road at intersections. Typically, a left turning vehicle should yield to oncoming traffic unless the left turning vehicle has a green arrow. Drivers and bikers should also otherwise obey the traffic signals, traffic signage (aka stop signs and yield signs), and speed limits. Also, all drivers and bikers should adjuster the respective operation of their vehicle / motorcycle to weather and traffic conditions.
It should be noted that Florida has an Accident Report Privilege. As such, the police report and findings of the officer are typically inadmissible in a civil court proceeding. In other words, the investigating officer does not get to be judge and jury when there is an issue as to fault or liability.
In the aftermath of an intersection motorcycle crash, the injury victim and family are faced with a myriad of problems and issues. Florida law has certain twists and turns to it. As such, common sense and fairness are not always built int the laws and processes by which an injury victim can and should seek compensation.
If a biker is injured as a result of the negligence of a driver, a claim / case can be pursued on behalf of the injury victim and family. Some claims / cases involve minor injuries but can still be pursued. Other claims / cases involve serious personal injuries and even the wrongful death of the biker. It should be noted that the legal case should be distinguished from the practical case. In other words, if the at-fault driver lacks insurance or any appreciable assets, then the practical case or result will likely be quite limited. If the at-fault driver is sued and then taken to a trial, there may be a big verdict or result; however, the victory may be limited to a piece of paper that states that $1,000,000 is awarded yet over time none of it is collected.
Due to the complexities of a motorcycle accident case and the Florida laws on point, it is important to consult with and hire an experienced Florida Motorcycle Accident Attorney. David Wolf has over 32 years of experience in handling motorcycle accident cases and other personal injury cases. He is the author of 12 books including the book titled - Watching Out for Motorcyclists - Freedom - Liberty - Justice - Legal Rights of Injured Bikers. You can get this book for free at Free Motorcycle Personal Injury Book.
David Wolf is a Flagler Beach resident and small business owner. He has a full staff in place including a legal nurse consultant to assist with his caseload. WIth David Alan Wolf - Personal Injury Attorney - you will get an attorney that knows the law, the processes, the winning strategy, and most importantly the client. That's right, David Wolf knows his clients and will make sure that the pursuit of the case is individually tailored to the needs, injuries, and circumstances of the client. You will not find David Alan Wolf on billboards, radio ads, or TV spots . . . You will find David Alan Wolf working hard for you and available when you need him for guidance, direction, and legal representative. David Wolf firmly believes in Giving a Voice to Injury Victims and Their Families.
Call David Wolf today for a Free Consultation on your motorcycle accident case or other personal injury matter at (386) 348-HOWL or (386) 348-4695 or by e-mail at dwolf@davidalanwolf.com