Work Related Personal Injuries - Third Party Claims and Cases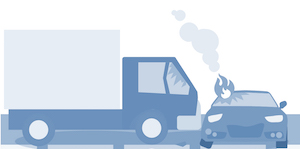 When a worker is injured as a result of an on-the-job injury, there may be a case or claim pursued against a third party that caused the injuries. This third party claim can be pursued in addition or concurrently with the worker's compensation case in the State of Florida. For instance, let's say that a worker is driving a company vehicle that is rear ended by another driver. The other driver is issued the traffic citation and the other driver is clearly at fault for causing the crash. The worker suffers personal injuries. Under the facts of this case, the injured worker can pursue a worker's compensation claim through the worker's compensation insurance carrier AND pursue a third party case against the at-fault driver and the at-fault owner of the vehicle that crashed into the work vehicle driven by the worker.
It should be noted that the benefits / compensation paid out by the worker's compensation carrier may be subject to a lien. In other words, the worker's compensation insurance carrier can seek reimbursement of the monies or funds paid out if the injured worker receives a settlement or compensation through the third party case or claim. The injured worker may be able to treat through worker's compensation medical providers, PIP (Personal Injury Protection) automobile insurance medical providers, or other medical providers. It is important that the injured worker receive appropriate follow up care to get properly treated and diagnosed for the accident related personal injuries.
In the aftermath of a work related incident or accident, the injured worker should seek out a Florida Worker's Compensation attorney and a Florida Personal Injury attorney to get advice, guidance, and legal representation. David Wolf provides Free Consultations on all personal injury cases and claims. You can reach David Wolf at (904) 500-WOLF or (904) 500-9653. Get David Wolf On Your Side - At Your Side. If the case is accepted for representation, David Wolf will handle the case on a contingency basis which means that there were be no attorney fees or costs charged by David Wolf unless there is a financial recovery by the injury victim. David Wolf firmly believes in Giving a Voice to Injury Victims and Their Families. He handles personal injury cases throughout the State of Florida.
David Wolf is a personal injury attorney with over 30 years of experience. He handles personal injury claims and cases throughout the State of Florida. He is the author of 12 books including the book titled Florida Automobile Accidents - Personal Injuries - Keys to Protecting and Enforcing Your Legal Rights. You can get this book for free at Florida Automobile Accidents. This book has chapters on General Issues and Questions, Medical Treatment and Follow Up, Insurance Issues and Common Questions, Florida Automobile Accidents - Case Types, Florida Automobile Accidents - Types of Injuries, Wrongful Death - Florida Automobile Accidents, and Settlement, Compensation, and Damages.