What is the Florida Law for Slower Moving Motor Scooter Traffic?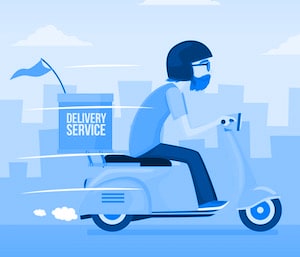 In the State of Florida, a motor scooter is considered a motor vehicle. A licensed driver can operate a motor scooter on the streets and roadways. However, most motor scooters in use are 50 cc or under in engine output. As such, the speed and power of most motor scooters are quite limited. As such, motor scooters often travel at a speed less than the regular flow of traffic. Pursuant to Section 316.081, Florida Statutes - Driving on the Right Side of the Roadway, a vehicle which is traveling at a speed less than the normal speed of traffic for a particular area or roadway shall be operated in the right hand lane OR as close to the right hand side of the roadway was possible. This is a general rule. For instance, when a motor scooter operator is making a left hand turn, it would be dangerous to do from the far right side of the lane. A violation of Section 316.081, Florida Statutes can result in a traffic citation.
While a motor scooter can occupy lanes of traffic in a similar manner to regular sized motor vehicles, it should be pointed out that there are definite risks involved with the operation and use of a motor scooter. It is clear that a motor scooter by size and weight is no match for the power, volume, weight, and speed of a regular sized motor vehicle when there is a crash, collision, or accident. When there is an automobile / motor scooter accident, the resulting injuries can be quite devastating and have a life time effect / impact on the motor scooter operator / rider. Tragically, motor scooter operators, moped operators, and motorcyclists die a result of a crash / collision. It is important for drivers to watch out for motor scooter operators in a similar manner that driver should watch out for pedestrians, bicyclists, and motorcyclists. Driving in the State of Florida is a privilege and this privilege would be taken seriously any time that a driver gets behind of a wheel of a motor vehicle. Yes, a motor scooter operator has a duty to operate the motor scooter in a safe manner so as to avoid creating dangers for himself / herself and others.
Most regulations / laws in the State of Florida as they pertain to the rules of the road including the operation of a motor scooter can be found in Chapter 316, Florida Statutes. Again, safety is key for all drivers of motor vehicles including operators of motor scooters. When a motor scooter operator or rider is injured as a result of an accident, a case or claim can be pursued on behalf if the injuries motor scooter operator or rider. Florida has specific laws in place as to compensation and insurance for medical bills - past and future and pain, suffering, loss of enjoyment of life, and mental anguish. In the aftermath of a motor scooter accident, the respective insurance companies are well represented by investigators, adjusters, risk managers, and attorneys. Level the playing field as soon as you can and hire an experienced Florida Personal Injury Attorney.
David Wolf is a personal injury attorney based in Jacksonville, Florida who handles motor scooter accidents and related incidents throughout the State of Florida. With over 30 years of experience, attorney David Wolf knows what it takes to protect and enforce the rights of injury victims. David Wolf firmly believes in Giving a Voice to Injury Victims and Their Families. Contact David Wolf for a Free Consultation. He can be reached at (904) 500-WOLF or (904) 500-9653. You can also send David Wolf an e-mail at dwolf@davidalanwolf.com Get D Wolf On Your Side - At Your Side.