Can a Motor Scooter Be Operated in the State of Florida Without a Florida Driver's License?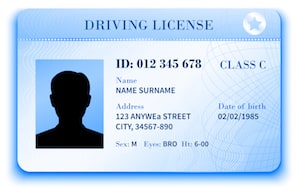 In the State of Florida, it is illegal to operate a motor scooter without a valid Florida driver's license. While a motor scooter is a relatively low powered, low speed, and easy "motor vehicle" to operate, a valid Florida driver's license is still required. Other than having a valid Florida driver's license, the regulations for the operation and use of a motor scooter are a bit soft or light in nature. For instance, an operator of a motor scooter is not required to wear a helmet. Furthermore, the operator / owner of a motor scooter is not required to purchase liability insurance or medical coverage as a pre-condition to the ownership or use of a motor scooter.
When an operator or a rider of a motor scooter in Florida suffers personal injuries, there can be a number of challenges and issues that arise. If the operator or rider lacks insurance, there can be a challenge in obtaining medical care. There may also be a challenge in obtaining benefits or compensation from the at-fault driver's automobile insurance carrier. Certainly, getting immediate medical care should take priority over any time of legal action or insurance claim. Once an injured motor scooter operator or rider is stabilized or evaluated, attention can be turned over the practicalities of ongoing care and compensation for wage loss, medical bills, pain, suffering, loss of enjoyment of life, and mental anguish. There may also be the issues of repairing the motor scooter or replacing the motor scooter if it is determined that the motor scooter is a total loss.
David Wolf is a motor scooter and personal injury attorney who handles cases throughout the State of Florida. He has handled or co-counseled cases in most of Florida's 67 counties. David Wolf firmly believes in giving a voice to injury victims including those who have been injured as a result of a motor scooter accident or motor scooter crash. Attorney David Wolf is available for a free consultation regarding a motor scooter accident days, nights, weekends, and holidays. When it comes to legal advice and access, it is important for the motor scooter injury victim and the family of the motor scooter victim to get advice, guidance, and legal representation in a timely manner.
It is important for drivers of motor vehicles and commercial vehicles to be on the look out for operators and riders of motor scooters. It is clear that any crash involving a motor scooter versus a passenger vehicle or commercial vehicle can have drastic and significant consequences and injuries for the operator or rider of a motor scooter. This is especially true when there is excessive speed on the part of the driver of the motor vehicle. It also can apply to situations when there is a t-bone or rear end crash into a motor scooter.
David Wolf is the author of 11 book and over 4,000 articles that focus on personal injury issues. He will provide a free consultation on a motor scooter case and other personal injury matters. Call David Wolf at (904) 500-WOLF or (904) 500-9653 or contact him by e-mail dwolf@davidalanwolf.com. Get the Wolf to protect and enforce your legal rights.