NOT The Largest Personal Injury Law Firm in Florida or The Universe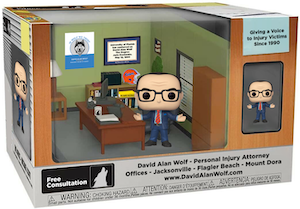 Personal, Customized, and Concierge Representation by David Alan Wolf - Personal Injury Attorney
David Alan Wolf - Personal Injury Attorney - is a proud small law firm with strong Florida and local roots to his office and community. David Alan Wolf does not run a large law firm nor has he ever worked in or wanted to work in a large firm. Certainly, a personal injury victim has choices for representation. Some injury victims prefer to go with a big name or practice that has hundreds of billboards throughout the State of Florida and that occupies multiple floors of a tall office building. There are some excellent attorneys in these large law firms. There is also a bit of a bureaucracy when dealing with a large law firm. Also, any given client may be assigned to any given attorney in the large firms. It is also common to see cases to shuffle between attorneys in the firm when an attorney or staff member leaves the firm or goes to another part of the firm.
With David Alan Wolf, you get the stability and comfort of an experienced Florida personal injury attorney with over 32 years of experience. David Alan Wolf personally gets to know all of his clients. Also, his office does not operate with reliance on voice mails or a revolving door of staff members. When you contact David Alan Wolf, you will get through. You will get the attention you deserve and there will be a custom plan for your case. With personal injury cases, one size or one formula does not and should not fit all.
When selecting a personal injury attorney and when working with a personal injury attorney, it is important that the strengths and challenges to the case are fully discussed and dealt with. If personal injury cases were easy without any issues or challenges, there would not be much of a need for personal injury attorneys. This also assumes that insurance companies operate on a fair and humane basis by paying full value on all claims in a timely and reasonable basis. This world unfortunately does not exist. As such, it is important to hire an experienced personal injury attorney who truly cares about the client, the end result, and the process.
David Alan Wolf handles a wide array of cases. There are relatively small cases because of limited insurance coverage or treatment. There are also significant cases that are worth millions of dollars. Whether the case is big or small, one thing remains constant which is the importance of each client no matter the size or complexity of the case. As a result of the efforts of David Alan Wolf, some clients were able to pay off unrelated debts and put money away for the future. Some clients even have been able to buy a house for cash and / or set up a long term annuity for the future. The end result of a particular case will depend on the facts, circumstances, and insurance coverage.
Contact David Alan Wolf and see the difference and the experience provided in a manner that is customized, personal, and concierge. David Alan Wolf provides a free consultation on all personal injury matters. If the case is accepted for representation, you will get an attorney (David Alan Wolf) with over 32 years of experience, a legal assistant with over 10 years of experience, and a legal nurse consultant with over 20 years experience as the team working on your case and on your behalf. If you are NOT looking for the largest personal injury law firm in the universe, David Alan Wolf will be a good fit for your case to pursue rightful compensation on your behalf.