Mount Dora Office - David Alan Wolf - Personal Injury Attorney
David Wolf has strong Florida roots as a lifelong resident and Double Gator Graduate (Finance and Law) of the University of Florida. Since middle school, David Wolf made frequent trips to the Mount Dora area for antique car shows and other events. He always marveled at the small town charm and character of Mount Dora. There were leisurely strolls down the streets of Historic Downtown Mount Dora and yes frequent stays and wonderful meals at the Lakeside Inn and other local destinations. As a young man, the seeds were planted for a more formal connection to Mount Dora and Lake County in the form of the Law Office of David Alan Wolf - Personal Injury Attorney located at 440 Royellou Lane, Suite 20, Mount Dora, Florida 32757. The office is located in a converted renovated warehouse building that is fully equipped and handicapped accessible. It is less than a block to Donnelly Park and other local businesses and attractions.
David Wolf has always honored the "old school" traditions of accessibility, a strong work ethic, and gratitude. The term "old school" applied since many attorneys and law firms have turned into factories and billboard driven conglomerate with offices in ivory towers in the form of glass skyscrapers. David Wolf provides his personal mobile phone to every single client. While he has "old school" values, he definitely has embraced the technology of a case management system, remote access to all of his files / cases, and communications via office, VOIP, and mobile phone. The typical work day for attorney David Wolf starts well before the crack of dawn and ends well into the evening.
For over 30 years, David Wolf has worked in a small firm providing representation for injury victims and their families. He takes pride in his ability to be available to his clients days, nights, weekends, and holidays. With mobile phone in hand at just about all times, clients and prospective clients have easy access to David Wolf by phone, text message, or e-mail. As noted by David Wolf, "when a person is dealing with the aftermath of an accident or a traumatic event, the person deserves access and information from the attorney. "With David Wolf, you get access and so much more as he brings 30 years of experience, knowledge, and problem solving skills to the table for each and every client.
You can reach David Wolf during the regular work day (8:00 a.m. - 5:00 p.m.) at 352-887-HOWL (4695). He is also available early mornings, evenings, nights, weekends, and holidays. During those time periods, calls to the office will roll over to his mobile phone.
David Wolf has handled cases in most of Florida's 67 counties throughout his career. He provides a Free Consultation for all personal injury cases including those related to automobile accidents, truck accidents, motorcycle accidents, bicycle accidents, pedestrian accidents, work related accidents / incidents (worker's compensation), medical malpractice, day care center injuries, child injuries, nursing home neglect, slip and fall cases, trip and fall cases, and other personal injuries matters.
David Wolf is an award winning attorney who also has been recognized by his peers and attorney directories for his years of service to his clients and commitment to excellence. He is an Eagle Member with the Florida Justice Association. Martindale Hubbell, which has been in print since 1868, has designated David Wolf as an AV Rated attorney which the highest level for skill and integrity. David Wolf also is designated at a Platinum Client Champion which is awarded to attorneys who excel at service to their clients. David Wolf is a 10.0 Superb Rated Attorney in the AVVO Lawyer Directory. He is also a 10.0 Rated Attorney in the Justia Lawyer Directory. Thomson Reuters is a company that was formed originally as Reuters in 1851 in England. Over the years, Thomson Reuters has grown into a larger international community that operates in different industries including the legal industry. Super Lawyers is operated / managed by Thomson Reuters. There is a rigorous selection process to be named a Super Lawyer. David Wolf is a Super Lawyer in the field of personal injury. He is quite proud of this award in that there are multiple factors considered in the selection process.
Contact David Wolf today for a Free Consultation to get advice, guidance, and direction as to your legal rights related to a personal injury matter. Call David Wolf at (352) 887-HOWL or (386) 348-4695 . You can also send him an e-mail at dwolf@davidalanwolf.com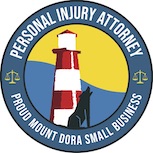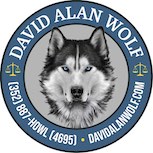 Get D Wolf On Your Side - At Your Side for your personal injury case in Flagler Beach or other locations. Remember, Where There Is A Wolf - There Is A Way.