The Importance and Symbolism of The Mount Dora Grantham Pointe Lighthouse - David Wolf Personal Injury Attorney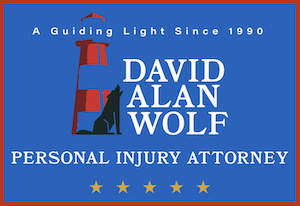 In Mount Dora, there is an important and symbolic landmark in the form of a Lighthouse located on Tremain Street and across from Gilbert Park. The Grantham Pointe Lighthouse is on the east bank of Lake Dora. It is the only inland freshwater lighthouse in the State of Florida. The Lighthouse stands at only 35 feet in height but has become an iconic and scenic attraction for Mount Dora.
Lighthouses have a long history and have played an important role in navigation and safety for sailors and ships. They are typically located on the coast or on an island and have a beacon of light that can be seen from a distance at sea. The light helps to guide ships safely to shore and to navigate around hazards such as rocks or shallows. While the Grantham Pointe Lighthouse is only 35 feet in height, it still serves as a safety beacon for those navigating the waters of Lake Dora and the interconnected lakes known as the Harris Chain of Lakes.
In addition to their practical purpose, lighthouses have also come to symbolize safety, guidance, and hope. They can be seen as a beacon of light in a metaphorical sense, leading people towards safety and helping them to navigate through difficult times. Lighthouses are often used as symbols in literature and art, and are a popular subject for photographers and artists.
Lighthouses also have a cultural and historical significance. Many lighthouses have been in operation for centuries and are important landmarks in the communities where they are located. They are often symbols of the region's history and maritime heritage and are a source of pride for local residents. Overall, lighthouses are important symbols that represent guidance, safety, and hope, and have played a vital role in navigation and maritime safety for centuries.
The opening of the Grantham Pointe Lighthouse took place in 1988. In the timeline of the legal career of David Alan Wolf, the opening of the Lighthouse was just 2 years prior to the beginning of his work on behalf clients and families. Since 1990, David Wolf has devoted his time, resources, and skills to individual injury victims and their families. He has never represented big business, big insurance carriers, or big medical facilities. David Wolf fully believes and embraces the "David versus Goliath" attitude and has done so with great poise, a tireless work ethic, and, yes success. This, in turn, has provided David Wolf with the longevity and strength of a practice that is still going strong after 32 years in the business.
Like Mount Dora's iconic lighthouse, David Wolf believes in serving as a "Guiding Light" to his clients by providing stellar legal representation.
Contact personal injury attorney David Wolf today for a Free Consultation. He can be reached at (352) 887-HOWL - (352) 887-4645 or by e-mail at dwolf@davidalanwolf.com
Since 1990, David Alan Wolf has been serving as a "Guiding Light" and voice for injury clients and their families throughout the State of Florida.