Representation from an Experienced Personal Injury Attorney - Get Your Voice Heard Thinking Outside of the Box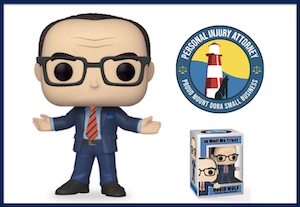 The origin of the phrase "think outside the box" is a bit unclear. A quick Google search of the topic revealed that the exact use of the phrase dates back just to the 1970s. "Think outside of the box" can be defined as thought or problem solving that is different, unconventional or from a new perspective. It is important for a personal injury attorney to be able to think outside of the box to solve a problem or face a challenge. It is also vital for a personal injury attorney to be a critical thinker who is able to think or problem solve inside the box and outside the box depending on the issue and situation.
When handling a personal injury case, one size, one approach, or one way does not fit each case or client. It is important to deal with the specific issues of the client and go from there. Currently, many law firms have emerged in a manner similar to big box retailers like Wal-Mart. While there are many nice people who work at Wal-Mart, the customer service and attention to detail are often lost the bigger the company gets. With economies of scale and size, the customer loses out and is often deprived of the one-to-one service that a customer deserves.
Since 1990, David Wolf has been represented individuals (not corporations and not insurance companies) who have been injured as the result of the negligence of an individual, business, or government entity. With over 32 years of experience, David Wolf brings the know how, skill set, and unwavering work ethic to each case and client. From the beginning of the case to its conclusion, David Wolf is there every step of the way. He takes pride in the reputation for excellence he has earned from clients, other attorneys, and, yes, insurance carriers he faces every day. With David Wolf, your case will be personally handled and not farmed down to a young associated or an over worked case manager. David Wolf provides each client with his mobile number and e-mail address. He also saves the contact number and information for every client into his iPhone. As such, he knows each and every one of this clients and provides the personal attorney so greatly needed in times of stress and uncertainty for the client.
Mount Dora has a rich history that dates back to the mid 1800s. The town's iconic hotel - the Lakeside Inn - dates back to 1883. This wonderful hotel has hosted President Coolidge, President Eisenhower, Henry Ford, and Thomas Edison. These great leaders and thinkers found respite and hospitality at the Lakeside Inn and the wonderful town of Mount Dora. David Alan Wolf, Personal Injury Attorney is a proud small business located in right in the heart of Historic Mount Dora at 440 Royellou Lane, Suite 204, Mount Dora, Florida 32757. David Wolf is honored to be able to serve the folks of Mount Dora, Lake County, and other areas of Florida. He has represented injury victims in most of Florida's 67 counties. David Wolf firmly believes in Giving a Voice to Injury Victims and Their Families. He also believes in serving as a Guiding Light in a manner similar to Mount Dora's Lighthouse located at Grantham Pointe.
David Wolf is the author of 12 books that focus on personal injury issues including the titled - Florida Automobile Accidents - Personal Injuries - Keys to Protecting and Enforcing Your Legal Rights and Big Trucks Big Problems - When a Truck Driver Wrecks Your Day and Life - Legal Rights of Injury Victim and Family.
David Wolf provides a free consultation on all personal injury matters. You can contact him at (352) 887-HOWL / (352) 887-4695 or via e-mail at dwolf@davidalanwolf.com