Pedestrian Accidents and Injuries - Mount Dora and Lake County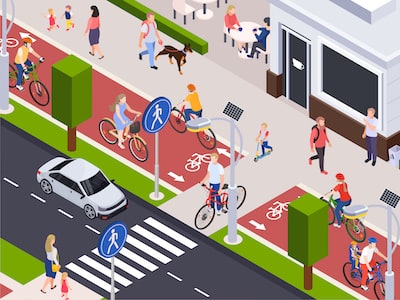 Florida is known as the Sunshine State. It is a wonderful place to live and a popular designation for visitors and tourists from other states are even internationally. Florida is popular because of the great weather, awesome beaches, theme parks, attractions, state and national parks, and historic towns and landmarks. Mount Dora has a bit of a slower pace than Orlando and other hustling and bustling cities in Florida. Unfortunately, even though Mount Dora is much smaller than Orlando, it still has its fair or unfair share of pedestrian accidents, personal injuries, and tragically wrongful death catastrophes. Certainly, all drivers should be on the look out for pedestrians. This is especially true when a pedestrian is in a crosswalk with a walk signal or in a crosswalk without a signal but attempting to cross in a safe and reasonable manner.
Section 316.130 (15), Florida Statutes requires drivers to use caution and due care act all times to avoid colliding with or running over a pedestrian. There is also a duty of pedestrians to use crosswalks when available and to essentially avoid darting into traffic or off a curb or sidewalk without use reasonable caution. Florida is a comparative fault state. In other words, a personal injury case can be pursued even if the injury victim was potentially partially at fault for the incident.
Section 316.130 (15), Florida Statutes also provides that special care be exercised when there are pedestrians in the form of children or incapacitated persons. Attorney David Wolf handles personal injury cases throughout the State of Florida including those cases involving an injured pedestrians. One of the more emotional cases handled by David Wolf involved an elementary school aged child who was run over by a vehicle near a school bus stop. The child tragically died. The driver was not paying attention and was speeding in a school zone. While the child was not crossing the street within a crosswalk, the case was ultimately settled for the insurance policy limits as compensation for the surviving parents. Certainly, no amount of money would ever be a fair or just amount for such a tragedy. This particular case should be a reminder to all drivers to slow down not only in school bus stop areas but every part of the city and county to avoid such a horrible event from happening again.
Unfortunately, Florida, in addition to being the Sunshine State, also happens to be a top ranking state for pedestrian deaths. According to the National Highway Traffic Safety Administration, Florida ranks #4 in the nation with a Pedestrian Fatality Rate per 100,000 People at 3.20. The three states ranking higher in this table of statistics are Mississippi (#3), South Carolina (#2), and New Mexico (#1). As for the ranking for total number of annual deaths, Florida ranks #2 (696 death) with only California (#1) ranking higher on the list.
In the aftermath of a pedestrian accident, it is important to consult with an experienced personal injury attorney. David Wolf has been in practice for over 32 years and decimates his entire practice and efforts to personal injury victims and their families. With David Wolf, you will get an attorney who will be with you every step of the way. Many attorney are too busy making commercials or billboards. Other attorneys are busy taking multiple vacations or playing endless rounds of golf. These same attorneys are too busy . . . that's right too busy to take your calls or work on your case. It can be a bit disturbing to hire an attorney only be be ghosted soon after and left to have limited dealings with a case manager, legal assistant, or paralegal. There is no substitute for experience. There is also no substitute for a steady and dedicated work ethic.
David Wolf limits his practice and caseload so that he can get to know each client and be there for each client from start to finish of the case. David Wolf has a thriving law practice but he will not be "too busy" for you, your needs, your questions, or your case.
David Wolf is the author of twelve books including the books titled - Florida Automobile Accidents - Personal Injuries - Keys to Protecting and Enforcing Your Legal Rights and When The Wheels Stop Spinning - Legal Rights of The Injured Child - What Parents Need to Know After the Accident. Each book has information that apply to pedestrian accidents, treatment, medical bills, insurance coverage, and other topics. You can get a free copy of these and other books at Free Books For Clients and Prospective Clients.
Contact Attorney David Wolf today for a Free Consultation. Since 1990, David Wolf has served a Guiding Light to Injury Victims and Their Families. Call David Wolf at (352) 887-HOWL or (352) 887-4695. Send an e-mail to David Wolf at dwolf@davidalanwolf.com.